One of Nationwide's commercial insurance policyholders is realizing the benefits of venture-capital investment that the insurer made in a telematics startup and a pilot program that is reducing risky driving behaviors by 70 percent.
The policyholder, HASC Center, a nonprofit agency that provides transportation services for children with developmental disabilities, had its 20 fleet vehicles drivers participate in a 16-week program that involved dashcam monitoring of driving behavior.
The provider of the dashcams was Nexar, a computer vision-based telematics startup, which is one of several startups backed by Nationwide Ventures. Nexar's video-recording technology provides vehicle-to-vehicle communication that connects directly to a dashcam app and monitors driving behavior.
Nationwide said that HASC Center drivers demonstrated "significantly safer driving habits" by the end of the 16-week program, showing a substantial decrease in the key driving behaviors identified as most likely to lead to accidents. For example, hard braking activity declined 70 percent—from five hard brakes per 100 miles to one-and-a-half hard brakes per 100 miles, Nationwide reported.
In August 2017, Nationwide announced a commitment to invest $100 million in customer-centric services including services that help people live comfortably in retirement, protect digital assets and protect them in the evolving area of mobility.
In January 2018, Nexar raised a $30 million round of new funding from Nationwide Insurance and other investors to help expand the reach of its technology.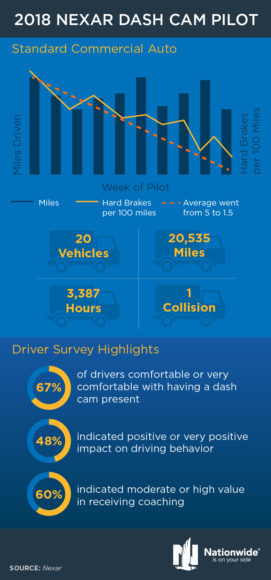 Was this article valuable?
Here are more articles you may enjoy.