Giant auto insurer GEICO has promoted Joe Pusateri to vice president of marketing
Pusateri previously served as an assistant vice president in marketing; in that role, which he assumed last year, he oversaw analytics, direct mail, in-house creative and the advertising for the GEICO Insurance Agency (GIA), which offers homeowners, term life and other types of coverages. In addition, Pusateri headed GEICO's retention marketing division.
Pusateri began his GEICO career in 2003 as a planning and research analyst in the controllers department. After working his way through the analyst ranks, he became a planning manager in the marketing department in 2007. He was promoted to planning and research manager a year later and to senior manager in 2010, with additional responsibilities for motorcycle, RV and boat advertising.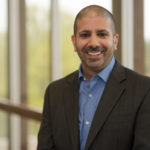 In 2013, Pusateri's duties expanded to include responsibilities for military marketing and GIA programs. He was promoted to marketing director in 2014, a title he held until his election to assistant VP in 2017.
GEICO (Government Employees Insurance Co.) is the second-largest auto insurer in the U.S.
Topics Berkshire Hathaway
Was this article valuable?
Here are more articles you may enjoy.