Giant global insurer Chubb is on a mission to transform itself into a digital enterprise.
The company is making substantial investments in digital technologies including cloud, mobile, APIs, security, chatbots, analytics and data. The effort includes using digital capabilities to simplify products, analytics to improve customer experience, artificial intelligence to reduce underwriting and claims questions, and connections to the Internet of Things, such as water leak detectors to prevent and predict losses.
According to a December 2018 investor presentation, Chubb projects to grow sales over its digital channels by $500 million to reach $3.3 billion gross premiums written in 2019. That figure refers to digitally underwritten business from traditional distribution partners such as brokers and agents in all markets globally.
Chubb does not disclose sales targets for any business, including U.S. small business, and does not report revenue for U.S. small business. But Chubb's digital transformation is clearly evident in its small business operations.
Chubb's small business digital distribution strategy includes working with digital brokers like CoverHound, Bunker and Insureon to capture small businesses wanting to buy online.
But the small business strategy chiefly relies on traditional agents and brokers, not InsurTechs or direct-to-buyer methods. The key is Chubb Marketplace, a project that is "digitizing the agent experience" in underwriting and selling small business products while also streamlining the process for small business customers.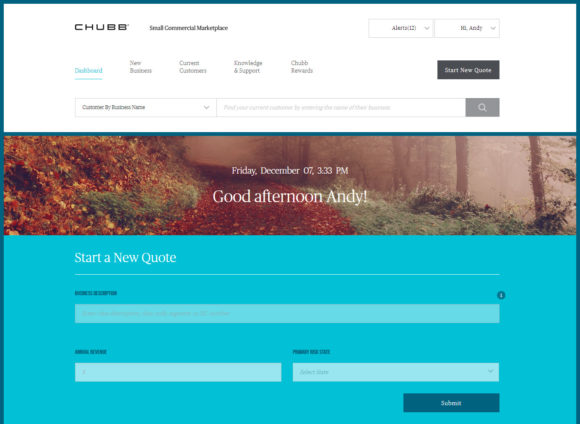 Marketplace, which first went live in November 2017, is for accounts with $30 million or less in revenues, although it can handle even bigger accounts depending on coverages sought—and Chubb is regularly increasing this size threshold. In a typical Marketplace case, agents are serving accounts that need multiple coverages; in some others, agents may be looking for minimum premium policies.
In a display of activity that must make InsurTechs envious, on any given business day, 900 to 1,000 Chubb agents log onto Marketplace.
Why?
Because agents can check account-level appetite by filling in the risk type, then providing just two pieces of information: the company's revenues and state. Agents can then get a quote for the small business within five minutes. They can generate a full proposal letter for the customer within 15 seconds after the quote is complete. And agents can obtain the final policy documents within two minutes of the sale.
That's right. A thousand agents a day. Two questions. Five minutes. Fifteen seconds. Two minutes. Take that InsurTechs!
Renewals are even easier. Chubb uses third-party data to confirm that the exposures are consistent with what they were when the policy was first written, and if that's the case, the insurer automatically issues the renewal policy. The small business owner or the agent doesn't have to do anything.
Some of the coverages currently available for small businesses through Marketplace include Chubb's businessowners policy and workers compensation, auto, umbrella, cyber, property, general liability, management liability and others. New industries and coverages are being added regularly. Manufacturers were added last quarter. Restaurants will be added soon, followed by habitational. Later, the plan calls for adding health and fitness, religious institutions, financial risks and others.
Chubb is even helping its agencies develop their own digital experience for their small business owners. This lets customers go to the agency's website to get a Chubb quote and policy without human intervention if that's how they prefer to buy.
Marketplace shows that while insurers may not be garnering headlines like InsurTechs, they are making progress on the promise of digital. It also challenges those who say insurers can't run traditional and digital operations under the same roof.
Marketplace is an example of a system built not only on what a technology expert thinks but also, and substantially, on input from agents. According to Bennett "BC" Verniero, Chubb's senior vice president, Business Solution Architecture, listening to agents has been the most important of four guiding principles driving the design and evolution of Marketplace.
"The first and foremost [principle] is that the entire system—the way it looks, the way it feels to an agent, the way they engage with it—was really designed by them and for them," Verniero said during a demonstration of the system. "When we are thinking about enhancements or features, we always engage the agents and get their feedback and whether it's going to work for them."
Verniero and his designers have also been guided by three other principles:
Incorporate consumer-like features, such as a shopping cart and rewards program.
Bring in information from other systems, such as call centers and records of agency interactions.
Build an architecture that allows for a "quick and nimble" front end for agents and the ability to make changes quickly.
In a recent interview, Jim Williamson, Chubb's division president, North America Small Commercial, Underwriting, spoke with Wells Media's Andrew Simpson about Chubb's signature small business digital platform, Marketplace, and the carrier's digital strategy.
"If you think about the challenge that [small business] presents to the independent agent, they have to deliver all that complexity and all that expertise. But they have to do it efficiently because these are small customers who aren't paying very much premium for their product," Williamson said. "I think there's a tendency to think of small businesses [as] simple and easy, and it is in many ways. But even a small business can have complex risk management needs."
He said Marketplace strikes a balance between giving small businesses all the protection they need while also keeping it simple.
"We've made it really, really simple for them to very quickly configure the right coverage for the right client without including a whole lot of extraneous things that the client doesn't need and doesn't want to pay for," he said. "So, it's a fine balance. But we made it simple for the agent to deliver it and to do it efficiently and economically."
Chubb sees digital as essential to writing small business profitably.
In many cases, he said, agents believe that they can't make money serving small businesses in their communities. "When we made the decision to build this capability, and then certainly when we designed it, the goal we had in mind was to allow our agents to service their small business clients, but to do it profitably." He said the way to do that is to make it "faster and easier for them to conduct transactions so that they can then serve the client and do all of that economically."
It's also important for Chubb.
"You have to underwrite this business, but you want to do it with analytics and with computer modeling so that you don't have to have an army of people processing these transactions. They're just too small."
According to Chubb, Marketplace has reduced the time to place a multiline account, which typically involves two to three lines of insurance, by an estimated 40 percent. Due to placement being at the account level, the more lines on an account, the greater the efficiency. The efficiencies are achieved through the elimination of data re-entry, data prefill from third-party sources and intelligent underwriting question presentation.
In workers compensation, Marketplace has reduced the number of required fields to generate a quote by 60 percent.
About 85 percent of submissions for Chubb's BOP product can now flow straight through without any human intervention on Chubb's part. And that in turn frees up funds for investing in technology, data, agents and products by not having high operating costs per transaction.
"So, it's absolutely essential if you want to be successful and you want to scale up small business to have this kind of capability."
In another segment of the interview, Williamson discussed how an evolving economy, including an on-demand segment, will lead to new insurance products that can be better delivered digitally.
"What I mean by that is, you think about the past, the reason why these big package products got created was because it was more efficient to deliver one big product that met a wide variety of needs than it was to split that into multiple different products that could meet very specific needs," he said.
But, he added, digital makes it possible to sell a $100 insurance product profitably.
"It [digital] will allow us to disaggregate coverages to meet unique risk needs digitally that in the past would have just been cost prohibitive," he said. "We're really only in the beginning phase, I think, of that as evolution, and a lot more is coming. Chubb is absolutely exploring those opportunities and, where it makes sense, executing against them."
Chubb also dismisses the notion that a carrier must separate its digital side from traditional operations in order to be able to do the digital correctly.
"We have absolutely no problem doing both," Williamson said.
More of the interview is available in a related Carrier Management article, "Inside Chubb's Agency-Centric Digital Marketplace and Its Digital Strategy"
Topics Agencies InsurTech Tech Underwriting Chubb
Was this article valuable?
Here are more articles you may enjoy.