In a major research undertaking, a group of scientists and a technology nonprofit technology organization have set a mission to calculate the past, current and future flood risk of every property in America.
While institutional real estate investors and insurers have privately purchased this type of information for years, the tech nonprofit First Street Foundation and its partners say they plan to release it for free and make it easily accessible and understandable through its online database, Flood iQ.
Scientists from Columbia University, flood modeling firm Fathom, the Massachusetts Institute of Technology, the research institute Rhodium Group, Rutgers University, the University of California–Berkeley, and the University of Bristol are partnering with First Street on the project. The team includes 57 people, 25 of them Ph.D.s.
"The government has failed to inform the American people about the true risk of flooding be it past, present or future facing. Large institutional investors are capitalizing on that," said Matthew Eby, First Street's executive director of First Street, which is, naturally, housed on Water Street in New York City. "We will put this otherwise privileged information into the hands of every American, so they are empowered to protect themselves."
The group wants to see properly-calculated flood risk applied to "all insurance rates, mortgages, land use decisions, bond ratings and other financial instruments."
Flooding in the U.S. has cost more than $1 trillion in inflation adjusted dollars since 1980 and represents more than 63% of the cost associated with all natural disasters causing $1 billion or more damage, according to the National Oceanic and Atmospheric Administration (NOAA).
The recent historic flooding in the Midwest, along with multiple hurricanes during 2018, destroyed thousands of homes that were classified as low-risk by the Federal Emergency Management Agency (FEMA), which runs the federal flood insurance program.
The group says the Midwest flooding again "highlights the need for complete, up-to-date, publicly available flood risk data that takes rising sea levels and increasing atmospheric and sea surface temperatures into account."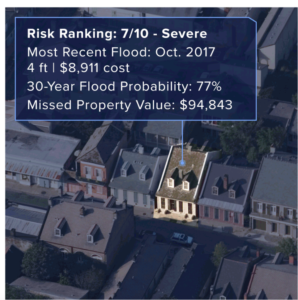 First Street's scientists say they will create a probabilistic flood model that accounts for tidal flooding, storm surge, pluvial (rainfall) and fluvial (riverine) flooding. They will then adjust the models to account for anticipated future sea level rise, increased precipitation and intensified cyclonic activity. The team also plans to analyze the flooding history of individual homes over the past 50 years.
The result will be a complete flood risk data set for every home in the U.S.
(In previous work, First Street and Columbia University researchers found that tidal flooding caused by sea level rise eroded $15.8 billion in property values in 15 East Coast states between 2005 and 2017. For three million coastal properties in Texas, sea level rise has eroded $76.4 million in property values over the same period.)
Steven McAlpine, First Street's head of data science, said that a large percentage of FEMA flood maps are outdated and they rely solely on historic observations and do not use changing environmental factors to forecast future risk. "On top of that, there are many areas across the country that aren't mapped at all," he said.
Dr. Paul Bates, chairman and co-founder of Fathom, said his firm's inland pluvial and fluvial model has already identified 27 million Americans left out of FEMA's 100-year flood zones. "This is just the tip of the iceberg," said Bates.
Coupling Fathom's inland model with other coastal models will provide the First Street project with the country's "first ever comprehensive, publicly available flood risk data set," according to Bates.
"Flooding is the costliest natural disaster in the United States," said Trevor Houser, a partner at Rhodium Group which, along with collaborators at Rutgers University and the UC Berkeley, will be leading the project's coastal storm surge modeling. "This group of cutting-edge scientists, economists, flood modelers, and data engineers are coming together to meet a critical need, one that the government has been unable to effectively address."
The flood risk data will be available through an Application Programing Interface (API) for distribution platforms like real estate websites and for academic institutions.
The Wharton Risk Management and Decision Processes Center and the University of North Carolina Center on Financial Risk and Environmental Systems have already partnered with the foundation to use the data for further economic analysis.
"Markets are only efficient when participants have full information. Today, housing markets are not fully reflecting changing flood risk," said Dr. Carolyn Kousky, executive director of the Wharton Risk Center. "Free, peer-reviewed hazard information is the first step toward closing that gap."
Data analytics firm Verisk sells a product to insurers called WaterLine that scores flood risk for all properties in the U.S. on a 0-to-100 relative risk scale and shows the factors contributing to the score.
Related:
Topics USA Flood Education Property Universities
Was this article valuable?
Here are more articles you may enjoy.