The value of coastal exposures along the Atlantic and Gulf coasts have experienced a compound annual growth rate of about 4% over the past decade, according to catastrophe risk modeling firm AIR Worldwide.
AIR released its "Coastline at Risk" analysis containing its most recent estimates of the total insured value of residential and commercial properties in states along the Eastern Seaboard and Gulf Coast of the United States.
Despite the rising risk from hurricanes, the population along the coast has continued to rise every year since 2000, except in 2005 when hurricanes Katrina, Rita, and Wilma struck the U.S. coast. With the population growth comes increasing coastal exposure values. While construction slowed considerably following the recession, housing prices and construction costs have continued to increase at a moderate pace. The data reflects both the increase in population and in construction costs.
The chart below shows AIR's latest industry exposure values in coastal states, as well as coastal counties within them.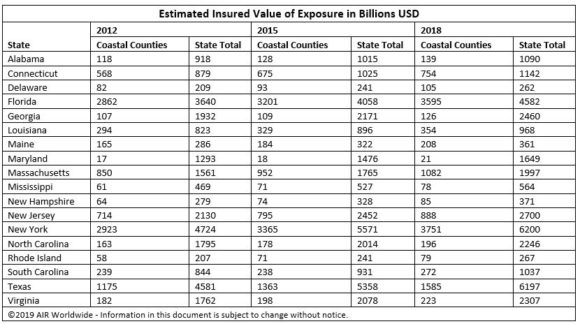 AIR said the increase in the number and value of exposed coastal properties will continue to contribute to increasing hurricane losses for insurers.
Source: AIR Worldwide
Topics Trends
Was this article valuable?
Here are more articles you may enjoy.