With GEICO's 2020 underwriting profit more than doubling above the level recorded in 2019, Berkshire Hathaway's full-year property/casualty underwriting income was in the black, even though the conglomerate's P/C reinsurance units saw underwriting losses in both years.
Taken together, $3.4 billion of pre-tax underwriting profit for personal lines auto insurer GEICO, combined with $110 million for Berkshire's commercial primary insurance operations, more than offset $2.0 billion in pre-tax underwriting losses in Berkshire's reinsurance group, Berkshire reported on Saturday. Total underwriting profit for the P/C insurance and reinsurance operations came in at $1.5 billion for 2020, compared to $640 million for 2019.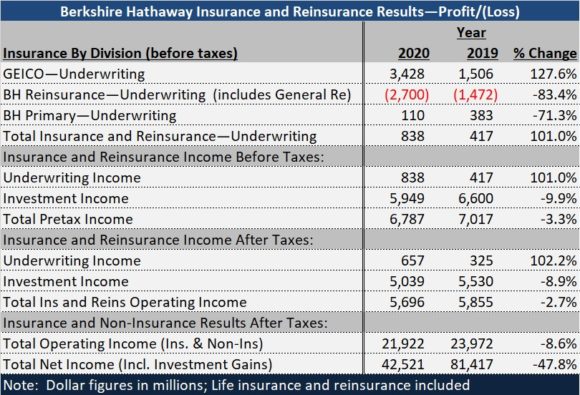 GEICO produced its profit in spite a six-month program of COVID-related premium givebacks totaling $2.9 billion from GEICO to its policyholders, according to a discussion of results in Berkshire's annual report. While the giveback program recognized that customers were driving less, the personal auto insurer's overall written premiums ended the year only about $1 billion lower in 2020 than in 2019. And GEICO's earned premiums dropped less than $0.5 billion, while lower claims auto frequencies pushed the company's combined ratio down to about 90.2—5.5 points less than the combined ratio GEICO reported for all of 2019. (Editor's Note: For the purposes of this article, CM editors approximated the combined ratio calculation using underwriting earnings and earned premiums presented in the annual report.)
In fact, GEICO's full-year combined ratio was lower than it's been in the decade of results that Carrier Management has tracked for Berkshire-Hathaway, falling below a prior low of 92.7 in 2018. Reductions in ultimate loss estimates for prior-years' loss events factored into both the 2020 and 2018 low levels. In 2020, the prior-year takedowns amounted to $253 million.
Berkshire-Hathaway Chair Warren Buffett's annual letter to shareholders this year included some paragraphs devoted to the vision of GEICO's original founders, the husband and wife team of Leo and Lillian Goodwin, who recognized back in 1936 that "a standardized product" typically bought from agents "could be sold directly at a much lower price."
"Armed with $100,000, the pair took on giant insurers possessing 1,000 times or more their capital," Buffett wrote. Originally called Government Employees Insurance Company, GEICO "instantly became my first love (of an investment sort)," wrote Buffett, recalling his first introduction to the company 70 years ago. "Berkshire eventually became the 100 percent owner of GEICO, which at 84 years of age is constantly fine-tuning—but not changing—the vision of Leo and Lillian," he wrote. "There has been, however, a change in the company's size. In 1937, its first full year of operation, GEICO did $238,288 of business. Last year, the figure was $35 billion."
While incurred losses at GEICO fell as claims frequencies declined in 2020 in the midst of COVID-related shutdowns, COVID added $964 million in losses to the total incurred for Berkshire's P/C reinsurance operations and U.S. hurricanes and wildfires added another $667 million in losses. In addition, underwriting results for the P/C reinsurance operations included $162 million to boost prior-year loss reserves for unpaid environmental and asbestos and other latent liability claims.
Putting those factors together, property/casualty reinsurance operations ended up with pre-tax underwriting losses $799 million, translating to a combined ratio of roughly 106.5.
A year earlier, hurricanes and wildfires had added $1.0 billion in 2019 losses, and prior-year loss development went in the opposite direction (with a takedown of roughly $300 million). Berkshire recorded a small profit in the P/C reinsurance operations ($16 million) in 2019.
Berkshire's retroactive reinsurance operations recorded about $1.2 billion in pre-tax underwriting losses for both years. Results for life-health reinsurance operations and annuity-like obligations were also written in red ink, contributing to $2.7 billion in overall underwriting losses for reinsurance in 2020.

Although GEICO's jump in underwriting profits pushed underwriting income for the group up more than 100 percent to $657 million after taxes, investment income for Berkshire's insurance and reinsurance operations fell almost $0.5 billion from 2019 levels to $5 billion, dragging total operating income from the insurance and reinsurance businesses down 2.7 percent.
Across the conglomerate, non-insurance operations saw poorer year-over-year comparisons, pushing overall operating income down 8.6 percent to $21.9 billion. Net income fell even more dramatically, dropping almost 50 percent to $42.5 billion in 2020, with a second-quarter $9.8 billion value write-off related to 2016 acquisition of an aircraft parts maker (Precision Castparts Corp.) and lower realized investment and derivative gains driving the decline.
Was this article valuable?
Here are more articles you may enjoy.