Google has hired former Deloitte Digital partner Nigel Walsh to lead its insurance business in North America.
Walsh disclosed the news on Twitter and LinkedIn. He noted on LinkedIn that he'll be part of a team led by Yolande Piazza, vice president of Financial Services for Google Cloud.
The team includes Henna Karna, former global chief data officer at AXA XL, who was recently hired to lead Google's Global Insurance & Risk Management Industry Solutions initiative.
In his LinkedIn message disclosing the news, Walsh said the timing is right for Google's focus on insurance.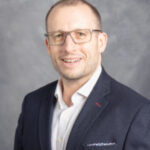 "To my new colleagues at Google, there has never been a better time to enable an industry drive change, making Google the number one destination for insurance transformation over the next decade," Walsh said in the LinkedIn posting.
He also noted that "in an industry where we manufacture nothing but data, [there is] no point being anywhere but the undisputed industry leader."
Previously, Walsh spent more than four-and-a-half years at Deloitte Digital, where he focused on driving insurtech, digital and overall technology transformation. He's also been the co-host of the InsurTech Insider podcast since July 2017, his LinkedIn posting noted, and has contributed to books focused on artificial intelligence and insurtech.
Karna, leader for Google's global insurance initiative, recently discussed Google's insurance plans with Carrier Management magazine. Google's newest insurance initiative is a cloud-based SaaS (Software-as-a-Service) data and analytics platform for insurers and reinsurers. Karna said Google' goal is to partner with, not compete against, insurers.
"Google's value proposition is to move insurance carriers from mere transactional proficiency to become analytical powerhouses," Karna told Carrier Management.
Topics Google
Was this article valuable?
Here are more articles you may enjoy.