New

You can now listen to Insurance Journal articles!
According to estimates by Fitch Ratings, direct written premiums (DWP) for standalone and packaged cyber insurance increased 74% to nearly $5 billion in 2021 compared with overall growth for the property casualty industry of 9%, making cyber insurance the fastest growing product segment in the U.S. P/C market.
Fitch said in a new brief that standalone cyber coverage grew by 92% in 2021. Standalone cyber represents about two-thirds of premiums.
The credit rating agency said standalone cyber "will expand further as a proportion of industry cyber premiums as insurers strive to reduce exposure to 'silent' cyber risks and minimize any ambiguity in coverage terms. However, a large portion of cyber risk remains uninsured."
The standalone cyber loss ratio improved to 65% in 2021 from 72% in 2020 as premium growth exceeded losses despite claims filings doubling in the last three years, Fitch said. Renewal rates increased more than 34% in the fourth quarter 2021 compared with the previous quarter but, other than premium growth, the loss ratio likely improved thanks to changes in risk selection and policy terms and conditions.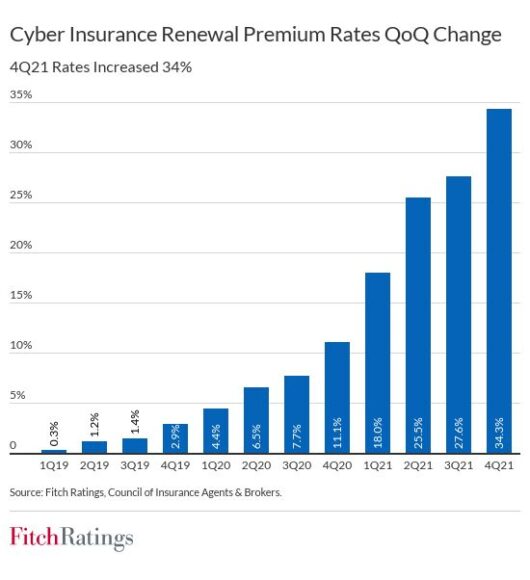 The risk of a systemic incident or several large cyber catastrophes is concerning in light of companies' continued expansion of digital footprints, but Fitch said: "Considerable future claims uncertainty is offset by an anticipation for further strong premium growth as insurers continue to sharply raise cyber premium rates."
Fitch said it will released a more detailed report on the cyber insurance market in May.
Topics Trends Cyber Pricing Trends
Was this article valuable?
Here are more articles you may enjoy.