New

You can now listen to Insurance Journal articles!
Funding for the insurtech sector plummeted 58% in the first quarter of 2022 compared to fourth-quarter 2021, according to data released Tuesday by CB Insights.
The total funding amount of $2.2 billion across 143 deals, compares to $5.3 billion across the same number of deals—143—for fourth-quarter 2021.
Compared to insurtech funding of $2.6 billion for first-quarter 2021, the aggregate funding amount fell only 15% in first-quarter 2022. But with record-breaking figures for the second-, third- and fourth-quarters of 2021, the year came in at $15.8 billion. That means the first-quarter 2022 figure of $2.2 billion is just 14% of the deal value for all of last year.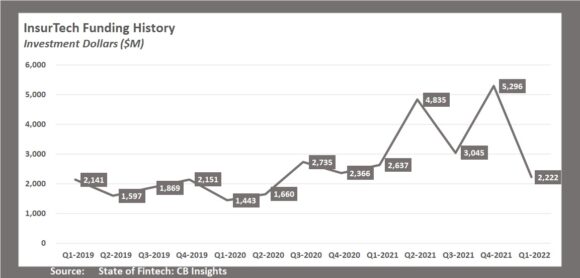 CB Insights published the data online in its 206-page "State of Fintech Q1'22 Report," which revealed global fintech funding overall, including funding for banking tech, digital lending, wealth tech, and capital markets tech in addition to insurtech, fell to $28.8 billion in the first quarter of 2022—down 18% from fourth-quarter 2021. That was the largest percentage drop in quarterly funding for fintech since 2018, the report said.
The 58% drop for insurtech was the largest percentage drop in funding for any fintech sector in the quarter.
So far in 2022, the average insurtech deal size is $19 million, or almost half the $33 million average deal size across all four quarters of 2021. The $19 million is in line with $20 million and $21 million average deal sizes that CB Insights calculated for insurtechs in 2019 and 2020.
One figure in the report that seems to be ahead of last year's pace is the number of M&A exits, already numbering 26 for 2022, which is almost half of last year's full-year total of 58.
CB Insights analysis also tracks the geographic distribution of insurtech deals, the percentage of early-stage vs. late-state deals, unicorn births by quarter, IPOs and SPACs. The report also includes a list of the top 10 equity deals in the quarter, topped by the $190 million funding round for Accelerant, an insurtech providing underwriters with a data-driven platform and risk exchange.
Topics Mergers & Acquisitions InsurTech Tech
Was this article valuable?
Here are more articles you may enjoy.