New

You can now listen to Insurance Journal articles!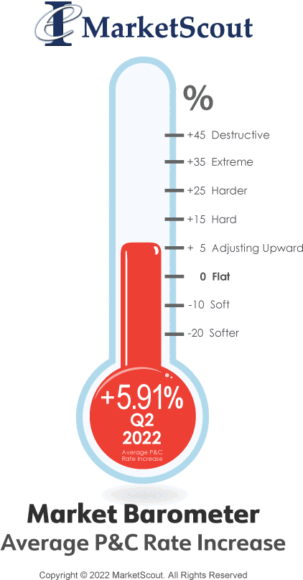 MarketScout said commercial property/casualty rates in the U.S. during the second quarter 2022 were about the same as the first quarter, with composite average rate increases across all lines of just over 5.9%.
Increases were 6% in the first quarter 2022 following an average increase of 5.8% in the fourth quarter 2021, but some indications of rate increases in March lead MarketScout CEO Richard Kerr to say at the time that there could be "stronger increases for the next several quarters."
He added: "Inflation can create a need for rate increases, so we may see that impact over the next four quarters. As for rate decreases, it's possible higher interest rates could provide insurers with additional investment income which could moderate rate decreases, especially on long tail business."
As has been the case in the P/C marketplace, cyber liability rates kept climbing in the second quarter, according to MarketScout. Rates increased 21.3% in Q2, up from 19.7% hikes in the first quarter.
Looking at more specific lines of coverage, excess umbrella rates were up 8.7%, D&O rates increased 8.3%, and commercial property rates were up 8.3%, said MarketScout.
By account size, MarketScout said medium-sized accounts saw the largest Q2 rate increases of 7%.
Topics Trends Pricing Trends
Was this article valuable?
Here are more articles you may enjoy.