New

You can now listen to Insurance Journal articles!
While the market for cyber insurance is expected to remain challenging "for the foreseeable future," there is optimism for rate stabilization as organization focus on cyber hygiene, according to broker Marsh.
In a recent briefing, the broker said "steep rate increases of the past several quarters are moderating as attritional losses are better controlled and premium growth exceeds incurred losses."
Increased competition and new entrants in the cyber market, as underwriters gain confidence in pricing cyber risk, has additionally fueled what Marsh called "cautious optimism" for rate moderation during a time of high demand and an increase in first-time buyers, added Marsh.
The frequency and severity of claims remained high among Marsh clients during the first three months of 2022, continuing a trend that has accelerated rate hikes even for accounts with no claims or good cyber-risk controls. However, Marsh said lower rate increases are now being offered to companies that can demonstrate strong cyber hygiene as "underwriters become more selective about the risk they are willing to cover." As companies continue improve cyber hygiene, insurers are "expected to calibrate their underwriting and pricing strategies on an account-by-account basis — rather than on a portfolio-basis — and reward clients with strong cyber hygiene."
"Companies that have not made the cybersecurity improvements deemed necessary by underwriters are still facing challenges to secure coverage, and when they do this tends to be significantly more expensive and subject to more restrictive terms and conditions, such as co-insurance, restricted ransomware and contingent business interruption coverage, and sub-limited or excluded coverage," Marsh added.
Clients may be returning to the market for transfer solutions after the rate hikes seen over the last couple of years forced them to reconsider the levels of risk they can retain. Marsh said about of third of clients continued to reduce cyber limits early this year, but the numbers have gone down "sharply" in March and April. Still, less than 10% of Marsh clients increased cyber limits during the first four months of 2022 and many continue to increase retention levels – by choice or due to limited coverage availability.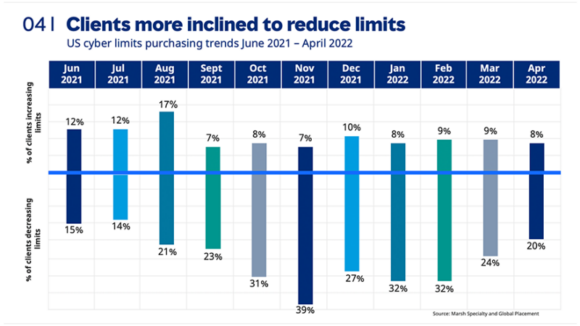 Marsh said captives have increased in popularity, especially in the healthcare, financial services, retail, and manufacturing industries. The number of captives writing cyber more than doubled at Marsh in the past five years.
"Some are using captives for retention purposes when buying larger limits, while others are using it to offset a significant rate increase or fill in missing capacity in a program," Marsh said.
Topics Cyber Risk Management
Was this article valuable?
Here are more articles you may enjoy.