New

You can now listen to Insurance Journal articles!
AIG late Monday terminated interim Chief Financial Officer Mark Lyons after he "violated his confidentiality/non-disclosure obligations," the company said.
Lyons was just appointed interim CFO earlier this month when CFO Shane Fitzsimons took a temporary medical leave of absence. Lyons was also executive vice president, global chief actuary, and head of portfolio management.
"These violations were unrelated to the company's financial statements, financial reporting generally and related disclosure controls and procedures, or reserves," AIG said in a statement.
In its public statement AIG did not go into specifics regarding the violation, but a filing with the U.S. Securities and Exchange Commission said that Lyons agreed he "has not (other than with respect to the sharing of access to company-issued communication devices) and in the future will not use or disclose to any third-party confidential information, unless compelled by law…"
AIG also said it entered into a settlement agreement with Lyons, in "recognition of Mr. Lyons' contributions to AIG since he joined the company in 2018." According to the SEC filing, Lyons will be paid $7.5 million. He also cannot seek employment with AIG again and waives his right of any and all claims.
The insurer said Sabra Purtill has been named AIG's interim CFO, and Turab Hussain has been named interim global chief actuary.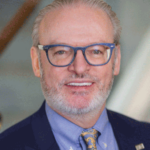 In October 2021 Lyons was part of several senior leadership changes the insurer said "strengthen the organization to deliver on its main priorities including the separation of the life & retirement business." Lyons stepped into the newly created role of executive vice president, global chief actuary and head of portfolio management at the start of 2022. He had been EVP and CFO of AIG until the move, and then assumed the role of CFO again when Fitzsimmons took his leave.
Lyons joined AIG in July 2018 as chief actuary, General Insurance, then took the role of CFO in December 2018. Prior to joining AIG, he was with Arch Capital Group. Prior to Arch, Lyons held positions at Zurich U.S., Berkshire Hathaway and previously at AIG.
Purtill previously served as CFO of Corebridge Financial. Prior to that, she was AIG's executive vice president and chief risk officer, and deputy chief financial officer. Before AIG, Purtill held senior leadership roles in finance and investor relations at The Hartford Financial Services Group, Inc., Assured Guaranty, and ACE Limited (now Chubb).
Hussain was AIG's chief risk officer, General Insurance. Prior to AIG, he was chief risk and actuarial officer at PartnerRe, chief insurance risk officer at The Hartford Financial Services Group and also held senior actuarial and underwriting roles at The Hartford, Arch Insurance Group and American Reinsurance.
Was this article valuable?
Here are more articles you may enjoy.