About one third of auto insurance customers in the U.S. reported a rate increase in the past year, leading to a growing number moving to usage-based insurance (UBI).
This has led to the largest decline in customer satisfaction in 20 years, according to J.D. Power's 2023 U.S. Auto Insurance Study.
Auto insurance customer satisfaction dropped 12 points to 822, down from 834 a year ago (on a 1,000-point scale). The decline, according to the report, is driven by lower satisfaction with the price customers pay for insurance, a factor that declined 25 points this year. The industry raised rates an average of 15.5% as insurers fight record high loss ratios.
"Overall customer satisfaction with auto insurers has plummeted this year, as insurers and drivers come face to face with the realities of the economy," said Mark Garrett, director of insurance intelligence at J.D. Power. "While insurers are caught between a rock and a hard place when it comes to balancing profitability with customer experience, there are several ways they can blunt the negative effects of rising costs, such as proactively offering customers UBI alternatives, clearly signaling and explaining necessary rate increases and consistently delivering on brand promises to instill trust."
Auto insurers lost an average of 12 cents on every dollar of premium they collected in 2022—the worst performance in more than 20 years.
Among customers who received a bill in the mail and paid in full via credit card, nearly half (45%) said they noticed a price increase, compared with 28% of those who received a digital bill and made automatic recurring installment payments, the report stated.
Reactions to pricing increases varied, according to the survey.
Customers who reacted negatively included those who either rent their residence or do not bundle their home and auto insurance; are single car/single driver households; are open to switching insurers; or those who have a lower perception of their insurer being trustworthy.
Notifying customers in advance through their preferred channel of communication (e.g., phone call from their agent), clearly explaining the reasons behind the price increase, and offering alternatives (like UBI) went a long toward maintaining customer satisfaction, the report stated, indicating a 137-point difference in price satisfaction between those experiencing an increase of more than $300 versus those experiencing an increase of $50 or less.
Rate Hikes Increase UBI Participation
Participation in usage-based insurance programs more than doubled since 2016, the report found, with 17% of auto insurance customers participating in such programs.
Among new customers, UBI participation rates is high at 26%.
Price satisfaction among customers participating in UBI programs is 59 points higher on average than non-participants.
There are still growing pains with UBI programs, JD Power reported. Thirty-three percent of customers currently using UBI have been on the program for less than one year, and the accuracy of data collected by UBI technologies is a concern, with 38% of customers indicating that the information collected is "always accurate."
The study measured customer satisfaction with auto insurance in 11 geographic regions.
Highest-ranking auto insurers and scores, by region, are as follows:
California: Wawanesa (843) (for a fourth consecutive year)
Central: Shelter (851) (for a third consecutive year)
Florida: State Farm (833)
Mid-Atlantic: Erie Insurance (863) (for a second consecutive year)
New England: GEICO (836)
New York: New York Central Mutual (842) (for a second consecutive year)
North Central: Erie Insurance (844) (for a third consecutive year)
Northwest: The Hartford (836) (for a second consecutive year)
Southeast: Farm Bureau Insurance – Tennessee (866) (for a 12th consecutive year)
Southwest: State Farm (835) (for a second consecutive year)
Texas: Auto Club of Southern California (AAA) (839)
There was a three-way tie in customer satisfaction among insurers offering UBI.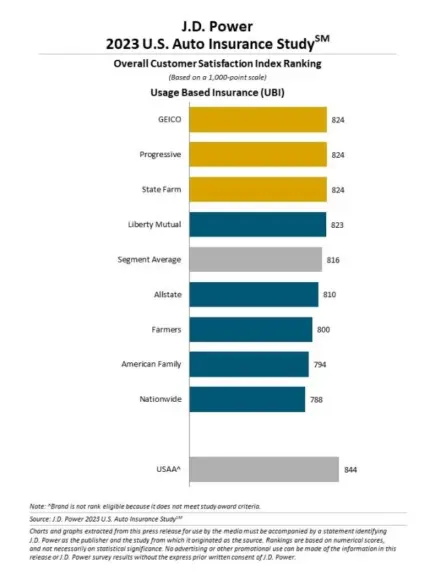 Topics Auto
Was this article valuable?
Here are more articles you may enjoy.