A midsummer quiz: Let's say you read about an area experiencing blistering heat for weeks on end. Heat so hot that in the day, you can't go outside, and at nighttime it's still above 90F. Would you cross that off your list of locations for your dream home?
Now suppose a neighborhood experiences regular heavy flooding and was recently decimated in places by a hurricane. Do you want to move there, or perhaps look for somewhere on higher, drier ground?
Well, many Americans are actually choosing to move to Zip codes with a high risk of experiencing wildfire, heat, drought and flood, according to a new study on domestic migration by Redfin, an online real estate brokerage firm, made available exclusively to Bloomberg Green.
In fact, the nation's most flood-prone counties experienced a net influx of about 400,000 people in 2021 and 2022. That represents a 103% increase from the two-year period before that. The US counties with the highest risk of wildfire saw 446,000 more people move in than out over the last two years (a 51% increase from 2019 and 2020). And the counties with the highest heat risk registered a net influx of 629,000, a 17% uptick.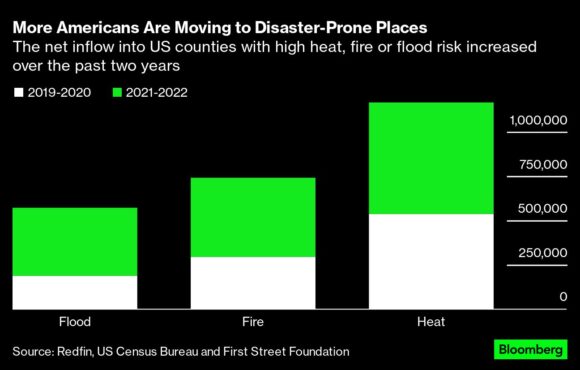 Take Lee County, Florida, which includes Fort Myers and Cape Coral and was slammed by Hurricane Ian last September. In the past two years, it's seen a net inflow of 60,000 people, an increase of about 65% from the prior two years.
The real estate brokerage site relied on First Street Foundation, a nonprofit that communicates information about climate risk, to flag the Zip codes at the most risk of flooding, wildfire, heat and drought, and analyzed recent Census data to find population migration patterns.
It's not that people don't care about climate dangers, says Redfin Deputy Chief Economist Daryl Fairweather. It's that concerns about affordability are primary and dominate everything else. And during the Covid-19 pandemic, the combination of remote work, low mortgage rates and high home prices in a number of major metropolitan areas prompted many Americans to relocate to the Sun Belt.
"People are seeking out places with warm weather and low taxes," Fairweather said in an interview. "Those near-term concerns tend to trump any of these climate risks."
A previous Redfin analysis found that buyers will consider climate risk when home shopping if it's easily available, but "that is on the margins, after they've already decided on a city or a neighborhood," said Fairweather.
Popular destinations such as Florida, Arizona, Utah and California's Inland Empire can have cheaper land costs for builders and, in some cases, more forgiving building codes, translating to lower new-home prices, but often the climate risks are higher than for older homes. Redfin found in a separate analysis that 55% of homes built so far this decade face wildfire risk and 45% face drought risk. By comparison, just 14% of homes built from 1900 to 1959 are at risk for fire and 37% for drought.
While the macro trend is migration to risky areas, there are two noteworthy exceptions. Hurricane-prone Louisiana and Paradise, California, the scene of the devastating Camp Fire in 2018, both saw a net outflow of residents, proving that perhaps there is a line where enough is enough.
Whether or not homebuyers are considering the long term, the long term is coming for them and their property values. As the report notes, "Homeowners in disaster-prone areas may see their property values start to grow at a slower-than-expected pace as natural disasters intensify and insurance becomes costlier and harder to come by." Rates of appreciation will be an estimated 5.4% slower than average by 2040 in counties with high flood risk, 4.8% slower in high-heat-risk counties and 3.6% slower in fire-vulnerable counties, according to forecasts by analytics firm Climate Alpha.
Photo: Homes under construction in Tucson, Arizona. (Bloomberg)
Copyright 2023 Bloomberg.
Was this article valuable?
Here are more articles you may enjoy.