According to WTW's Commercial Lines Insurance Pricing Survey (CLIPS), commercial insurance prices in the U.S. continued to increase in the second quarter.
The quarterly survey, answered by insurance carriers, indicated an overall price increase of 6.1% on polices written in the second quarter compared to those for the same coverage in second quarter 2022.
"Rates continued to harden across nearly all commercial lines of coverage in the second quarter. Commercial property, which had a significant double-digit increase, was the main driver of the aggregate price increase of 6.1%, compared with the prior quarter," said Yi Jing, WTW's director of insurance consulting and technology.
Broker WTW said the double-digit increase for commercial property insurance policies was higher than increase in Q1 2023, which saw overall commercial price increases of 5.6%.
Insurers said there were moderate to significant price increases for most lines in Q2 with the exception of workers compensation, directors & officers liability, and cyber. Commercial auto insurers reported price increases near or above double digits for the 23rd straight quarter, and price increases for excess/umbrella liability accelerated to near double-digits.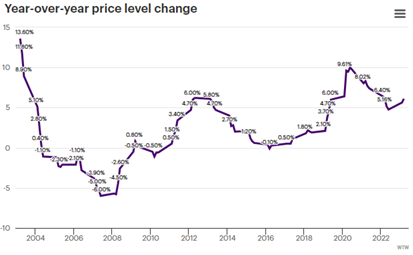 Topics Trends USA Commercial Lines Pricing Trends Business Insurance Willis Towers Watson
Was this article valuable?
Here are more articles you may enjoy.