The Insurance Council of Texas (ICT) Education Foundation has honored five insurance and risk management students at the University of Texas at Dallas with scholarships and registration into the Gamma Iota Sigma (GIS) organization.
UT Dallas on March 5 was officially designated a GIS charter, which will allow the school's insurance and risk management students access to a vast array of job opportunities, networking and career counseling in the insurance industry.
The ICT Education Foundation provided funding for the new charter as well as additional academic funding and scholarships.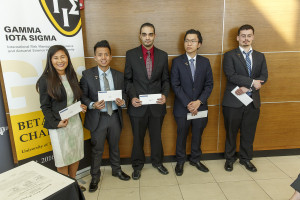 Tony Gonzalez, president of the ICT Education Foundation, said UT Dallas is quickly becoming one of the state's top universities in producing sought after insurance and risk management graduates.
Since 2002, the Education Foundation has awarded $851,750 in scholarships and academic funding to 393 students at 11 Texas universities.
The five UT Dallas students receiving scholarships totaling $7,500 are: Thu Nguyen, Nathaniel Bjorge, Mohammed Ahmad, Nate Pham and Hieh Huynh.
Along with the scholarships, each student will have the opportunity to come to Austin to ICT's Mid-Year Property & Casualty Symposium on July 13 and 14. The students will be given a tour of the Texas Department of Insurance and allowed to participate in a speed interview and networking session with insurance companies who are seeking job applicants.
Source: Insurance Council of Texas
Topics Carriers Texas Training Development
Was this article valuable?
Here are more articles you may enjoy.