The Insurance Council of Texas (ICT) has placed the insured losses from Hurricane Harvey at $19 billion. That number includes an estimated $11 billion in flood losses insured by the National Flood Insurance Program.
Insured windstorm and other storm-related property losses are expected to top $3 billion. In addition to the property losses, an estimated 250,000 private passenger and commercial vehicles were flooded resulting in insured losses from both auto losses and commercial property which are expected to reach $4.75 billion. These totals do not include residential property losses due to flooding or any uninsured losses.
The nearly $5 billion in losses comes after a year in which we had already seen higher than normal insured auto losses due to increases in the number of collisions and escalating repair costs. The windstorm and other property damage losses follow last year's nearly $5 billion in auto and homeowner hail claims.
Harvey made landfall on Aug. 25 as a category 3 hurricane with 130 mile per hour winds, just east of Corpus Christi in the Rockport/Port Aransas communities. Harvey's winds caused extensive damage in the area and farther inland, and unfortunately resulted in 70 deaths.
Hurricane Ike, which made landfall near Galveston on Sept. 13, 2008, had been the costliest storm in Texas history with $12 billion in insured losses.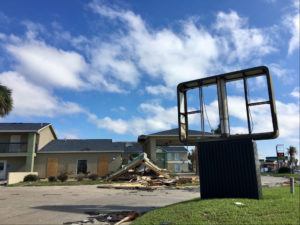 Rockport, Texas, August 29, 2017- A hotel sustained damage from hurricane force winds and flooding. Dominick Del Vecchio/FEMA
After coming ashore, Harvey moved up the Texas coast eventually dropping more than 50 inches of rain over parts of Houston and southeast Texas. Massive flooding occurred over a 200 mile long area of Texas stretching from La Grange to the Louisiana border.
Insurers have been in the areas hardest hit by Harvey since disaster officials allowed companies to set up mobile assistance centers.
In addition to the windstorm and auto damage,the storm caused catastrophic flooding in Houston, Beaumont and other southeast Texas cities. FEMA administrator Roy Wright said he expects the National Flood Insurance Program (NFIP) to make $11 billion in payments to homeowners who carried flood insurance.
The flood losses would be the second highest on record after Hurricane Katrina which had $16 billion in payments.
Of concern now are the many area homeowners who did not have flood insurance. The Federal Emergency Management Agency (FEMA) has set up in person disaster recovery centers for homeowners who may need FEMA assistance to aid in their recovery http://www.tdi.texas.gov/consumer/storms/FEMADRCs.html
"The number of uninsured homeowners who felt the full wrath of Harvey is staggering," said Mark Hanna, an ICT spokesperson. "Undoubtedly, the full economic impact from Harvey on Texas, will not be known for some time."
Source: ICT
Topics Catastrophe Natural Disasters Texas Profit Loss Flood Property Hurricane Homeowners
Was this article valuable?
Here are more articles you may enjoy.