The Oklahoma Highway Patrol says a state highway in the town of Fairfax in Osage County has been closed because of tornado damage, the Tulsa World newspaper reported.
The newspaper says there have been no reports of injuries from the storm, which blew through the area on Sunday night.
Oklahoma 18 runs north-south through Fairfax, which has about 1,300 people.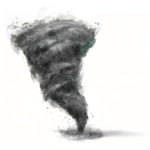 The Highway Patrol says the highway would be closed until further notice.
Copyright 2018 Associated Press. All rights reserved. This material may not be published, broadcast, rewritten or redistributed.
Was this article valuable?
Here are more articles you may enjoy.