CoreLogic has estimated that more than 14,000 homes were at risk of storm surge damage from Hurricane Hanna, which made landfall in South Texas on July 25.
CoreLogic's Coastal Storm Risk Score shows the number of homes at risk of being affected by Category 1 storm surge heights — as well as the total reconstruction cost value (RCV) of those homes.
RCV is calculated using an assumption of the total (100%) destruction of the structure and is based on construction materials, equipment and labor. It does not include the value of the land or lot.
CoreLogic has identified the largest six counties at risk, with the number of homes at risk and associated RCV: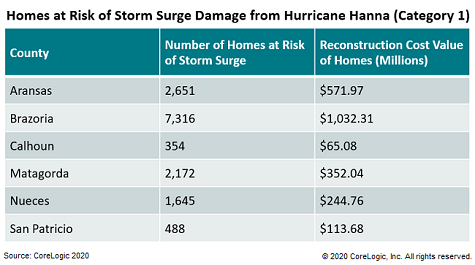 Source: CoreLogic
About the photo: Allen Heath surveys the damage to a private marina after it was hit by Hurricane Hanna, Sunday, July 26, 2020, in Corpus Christi, Texas. Heath's boat and about 30 others were lost or damaged. (AP Photo/Eric Gay)
Related:
Was this article valuable?
Here are more articles you may enjoy.