With nearly six hundred employees and annual revenues of $115 million, Oklahoma City-based INSURICA may be a large agency with offices around the country but its employees still say that being at work is like being with family, albeit an extensive one.
"Everyone works together as a team and it is like we are one big family. I feel comfortable going to other departments as well as my own with questions or concerns. We all look out for each other to make INSURICA the best place to work!" said one agency employee responding to Insurance Journal's 2020 Best Agencies to Work For survey.
The sentiment expressed in the comment above was reiterated by numerous INSURICA employees throughout the survey and led to the agency's selection as the 2020 Silver Best Agency to Work For – South Central region.

Another employee wrote: "We are a large company and I truly feel like each and every employee is valued and appreciated. I am very thankful to work for such an amazing company."
One employee explained that while the agency is a big one, "it doesn't feel that way. From the top — the agency goes out of its way to care for their employees. The philosophy seems to be — take care of your colleagues and they'll show it with care for our clients/business."
INSURICA President and CEO Mike Ross, says what makes the agency "special, without a doubt, is our community. There's a reason I use the word community instead of people. We do have great people, but it's the way our colleagues work together — not only with each other, but also with our clients and carrier partners — that builds the INSURICA community and makes it a great place to work."
In an email to Insurance Journal, Ross explained that for INSURICA, what works is "our precept of a connected community made up of our clients, colleagues, and carrier partners. We work under the vision that it takes all three to be a successful agency and that as long as we pay attention to each group, providing guidance and resources to strengthen them individually, the result will make us an agency, employer, and partner of choice."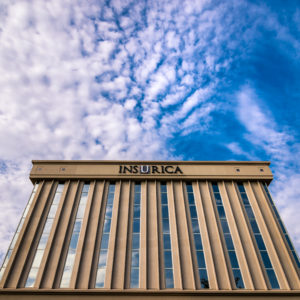 INSURICA's employees seem to appreciate that approach. Praising the ethics of the agency's management team, one colleague noted: "This agency is respectful and appreciative of its colleagues and clients in every way and are very transparent with everything. They are always concerned about the colleagues and our work / life balance."
Employees also lauded INSURICA's leadership during the coronavirus pandemic. "I like the way our company addressed the challenges created by COVID-19. All staff was immediately deployed to work from home and supported with the appropriate technology and support. Not a single employee lost their job due to the pandemic," one employee wrote.
For his part, CEO Ross commended INSURICA's employees during what has been a "year of unique learning opportunities and extraordinary change." He added that despite the challenges, the agency has "performed well both from a financial and service standpoint and I cannot say enough good things about the way in which our colleagues have persevered over these past months."
Stating that he loves "to see people succeed in life while having fun doing it," Ross offered this advice to agency owners seeking to create a workplace of choice: "Trust your team. Make sure they have the tools, resources, and support to achieve the agency's vision then get out of their way."
One long-time INSURICA colleague summed up what seems to be the prevailing mindset among the agency's employees, stating: "I guess that I have been here for 35 years says a lot. Love working here, love the culture, the support from fellow employees and from management. Everyone is committed to the success of the agency."
Was this article valuable?
Here are more articles you may enjoy.