New

You can now listen to Insurance Journal articles!
The Texas Windstorm Insurance Association Board of Directors met in Austin Tuesday to finalize financial preparations for the 2023 storm season.
The Board previously established $4.5 billion as the association's 1:100 probable maximum loss for 2023. In April, the Board approved total funding of that amount.
TWIA secured a $2.238 billion reinsurance tower, with $1.2 billion in the form of catastrophe bonds and $1.043 billion from the traditional reinsurance market.
The base of TWIA's funding structure is made up of a $265 million catastrophe reserve trust fund, $1 billion in member assessments and $1 billion in public securities.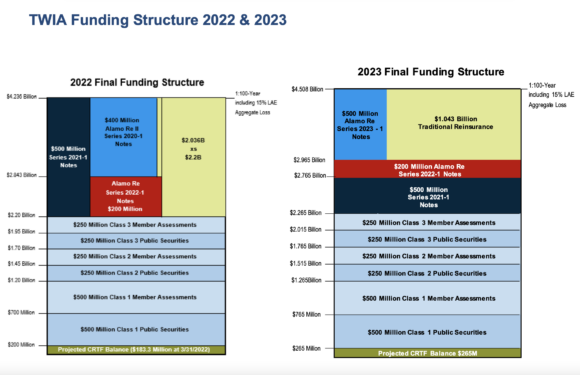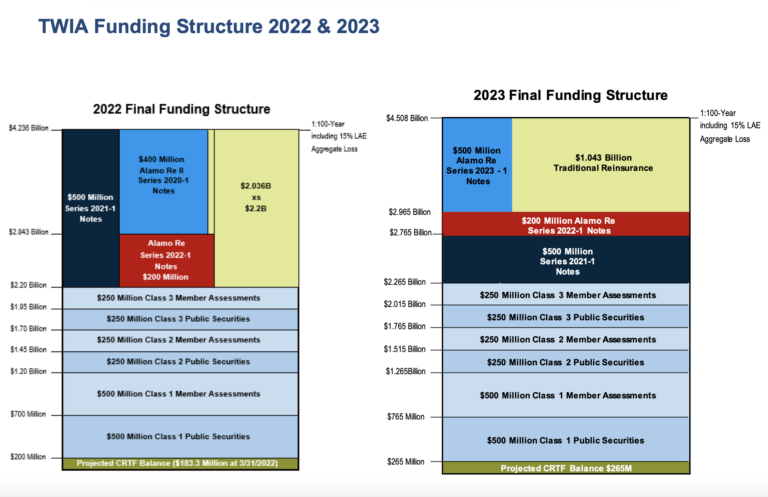 The Board on Tuesday also voted to authorize a $500 million line of credit to pay claims in the event of a catastrophic storm.
JP Morgan Chase provides $400 million and the remaining $100 million comes from Bank of America. Proposed pricing for the line of credit includes a commitment fee of 47.5 basis points per annum on the unused portion of the revolving credit line and an upfront fee of 10 basis points or $500,000, according to a memo shared at TWIA's Tuesday meeting.
TWIA reported net income of $83.9 million of net income for the three months ended March 31, 2023, or $7.4 million below budget. The association experienced $21.5 million in direct losses and loss adjustment expense for the three months, caused by January tornadoes and flooding in Houston.
TIWA had 2,094 reported claims for the three months with a 16.5% loss ratio.
Direct written premiums for the three months totaled $116.5 million, 33.6% above the same period in 2022. Direct written premium was $13 million higher than budgeted.
TWIA had 228,577 policies in force as of March 31.
Topics Mergers & Acquisitions Windstorm
Was this article valuable?
Here are more articles you may enjoy.