Georgia's Attorney General Sam Olens issued a consumer alert notice last week, warning consumers who are in the market for used cars to beware of flood-damaged vehicles in the wake of Superstorm Sandy.
Attorney General Olens said many previously-flooded vehicles are recycled into the economy and end up being sold at auction. They may then be sold at used car lots or through online classified ads.
Cars that were flooded during Superstorm Sandy may have been written off as "salvage" or "totaled" by insurance companies in other states, though this may not appear on their titles.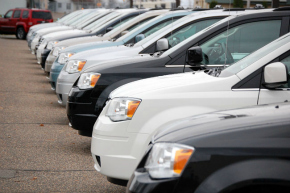 With new or recently-shampooed upholstery and carpeting, and perhaps some minor body work, the damage on these vehicles may be very well disguised and difficult for even a professional to detect, said Olens. Nonetheless, electrical problems are practically guaranteed, and the brakes, airbags and computer system may have been seriously compromised.
"If you are shopping for a used car, truck, van or SUV, be vigilant for signs of flood damage in the vehicle you are considering purchasing," Olens advised.
A musty odor may be noticeable, and water marks may be evident or fabrics faded, he said. Metal may be flaking prematurely, and rust, mud and grit may be hidden in the crevices where water would not normally reach.
He also recommended that buyers check the upholstery, dashboard, glove compartment, trunk, inner doors, engine area, and under the seats and carpeting.
Buyers should also look for drainage holes beneath the car, and check gauges and the condition and flexibility of all wires, including those below the dash.
Buyers are also advised to have someone do a close inspection of the alternator crevices, behind wiring harnesses, and around the small recesses of starter motors, power steering pumps and relays. They should also test and retest the ignition, lights, wipers, air conditioner, heater and all accessories.
"Always ask to see the title of the car before you sign anything or hand over any money," Olens advised. "Check to see whether the car has been branded as "flood', 'junk', 'salvage', 'rebuilt' or 'reconstructed'.
Olens also advised consumers to check the vehicle history by going to the National Motor Vehicle Title Information System (www.vehiclehistory.gov) and entering the Vehicle Identification Number (VIN). This is the only database where all auto insurers, salvage pools that auction off totaled cars, junkyards, recyclers and self-insured entities such as rental car companies in all 50 states are required by law to report total loss vehicles within 30 days. The cost for a report ranges from $3 to $13.
And, as with any used vehicle purchase, the attorney general said buyers should have the car examined by a trusted mechanic before paying any money for it.