Florida Chief Financial Officer Jeff Atwater touted the arrests of more than 100 immigrant agriculture workers last July as an effort to crack down on the costly problem of workers' compensation fraud.
But it quickly became apparent the raid on the Naples-area Oakes Farm fruit and vegetable processing plant wasn't your typical workers' compensation fraud, such as employees who fake back injuries or businesses who treat employees as outside contractors.
Instead, the state attorney's office charged the mostly Mexican and Central American workers, many in the country illegally, under Florida statutes that makes it a felony to use a fake or stolen ID to obtain a job — and, by extension, workers' compensation insurance.
On Tuesday, prosecutors and an attorney representing the workers confirmed most had agreed to a pretrial diversion deal akin to probation.
Naples attorney Donald Day said as long as the workers kept out of trouble, the charges would be dropped.
Still, immigrant and workers' advocates say Atwater is skirting the line of pre-empting the federal government's immigration authority by targeting these workers, whose main crime was finding a fake Id that employers wink and nod at — and should instead go after the employers who benefit from their cheap labor.
"In Florida this is a new wrinkle, where the state is going after people who haven't even filed a workers' comp claim, and is essentially taking enforcement of immigration laws into its own hands," said Rebecca Smith, deputy director of the nonprofit National Employment Law Project.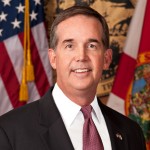 Atwater spokeswoman Ashley Carr said the investigation is ongoing and declined to discuss details.
"This case has nothing to do with immigration," she insisted, adding that workers had stolen the identity of at least 36 people. "They are the real victims."
Experts say nationwide workers' compensation fraud costs insurers, law-abiding businesses and taxpayers more than $1 billion annually.
Atwater, a Republican who is likely to win re-election next month, has made workers' compensation insurance a priority since taking office in 2011. A January report produced for state lawmakers highlights department operations like "Dirty Money," which targeted construction industry shell companies that obtain minimum worker compensation insurance and then rent it out to sub-contractors who can falsely claim they are covered.
Yet, according to the annual reports' statistics, the largest number of workers' compensation fraud cases — and the largest number of arrests — between July 2012 and June 2013 came not from fraudulent claims but from ID theft cases, often connected to unauthorized workers. Last year, the state won 97 ID theft convictions. That's three times as many as four years ago.
Convictions against employers who under-reported the number of employees or otherwise failed to properly apply for insurance — among the most common employer-based violations nationally — totaled 17.
Oakes Farm owner Alfie Oakes said he had no idea the vast majority of his workers were in the country illegally.
"We have a long-standing good name in the business, we are always able to get hundreds of workers with a day's notice if necessary," he told The Associated Press the day after the raid. He has since declined to comment.
Authorities began investigating Oakes Farms in September 2013 after an attorney for several former employees contacted the company during a dispute over a workers' compensation claim. The attorney said he repeatedly saw clients working up to 70 hours a week who were then fired after being injured or couldn't file compensation claims because of the fake Social Security numbers the company had encouraged them to get.
Investigators found Oakes Farms had only filed workers' compensation insurance applications for 102 out of its 174 workers — applications are supposed to be filed for all of them. They also found the majority of employees were using fake IDs. But they did not interview the whistleblower until eight months later at the prodding of his attorney.
Workers' compensation insurance attorneys say those in the country illegally are often hesitant to make claims because they fear deportation. Courts in many states have ruled these workers are eligible for benefits if they are hurt on the job and don't use fraudulent documents to make their claims.
But the Catch-22 is that workers must provide some sort of identification showing they are citizens or legal immigrants to take the job, so those in the country illegally usually use counterfeit IDs. And insurance companies often refuse to pay claims to those who do, reporting those making the claims to authorities.
Over the last four years, 29 of the processing plant workers with false Social Security numbers filed workers' compensation claims, according to state records The Associated Press obtained through a public records request.
On July 16, investigators raided the plant and arrested the workers.
"This case was brought to us. We didn't go looking for it," spokeswoman Carr said. "We had an obligation to investigate, not just one part or cherry pick, but all of it."
Miami attorney John de Leon, who has represented workers in similar cases, says the state got it backward.
"They could have gone to the workers and said 'We'd like to use you as a witness,' and the workers would be protected if they offered useful testimony, but this was clearly a company-favorable investigation," he said. "The result is you keep these people in the shadows, so they don't complain, because if you do, you know you'll get arrested and possibly deported."
Copyright 2023 Associated Press. All rights reserved. This material may not be published, broadcast, rewritten or redistributed.
Topics Florida Fraud Claims Workers' Compensation Agribusiness
Was this article valuable?
Here are more articles you may enjoy.