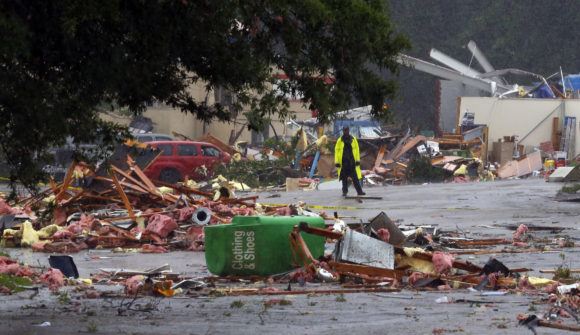 Floodwaters from Tropical Storm Cindy covered timberland and fields across the rural Deep South on Saturday, but the sun peeked out enough to offer hope that the worst was over.
Swollen by heavy rains and flowing quickly, the Chickasawhay River was out of its banks near the southeastern Mississippi town of Leakesville and nearly 9 feet (3 meters) above flood level with the water still rising over the weekend. An abandoned bridge spanning the river collapsed earlier in the week.
The National Weather Service said the Mississippi coast received nearly a foot of rain over the four-day period ending Saturday, the most in the region.
As much as another 3 inches (8 centimeters) of rain was expected around Leakesville, a town of 900 people by Sunday, possibly making flooding conditions worse, said Trent Richardson, emergency management director for Greene County.
Storms extended from southern Louisiana to northeastern Georgia, but Richardson said he was encouraged by occasional sunshine and revised projections that showed the Chickasawhay cresting lower than expected by mid-week.
"We're good right now, but I'm always edgy," Richardson said. "Weather is not an exact science. There could be a foot of water that's unforeseen."
Rainfall totals of 6 inches (15 centimeters) and more were common in southeastern Mississippi and southwestern Alabama, the weather service said. The agency reported minor flooding at more than 30 locations in Louisiana, Mississippi, Alabama and the Florida Panhandle. Water covered a street in Merrill, Mississippi, about 25 miles (40 km) from Leakesville.
Remnants of the storm pushed the Northeast over the weekend while additional minor flooding was reported along the storm's track in Indiana, Kentucky, Ohio and Pennsylvania.
As a slow-moving tropical storm that formed Tuesday in the Gulf, Cindy was blamed for at least one death. Nolan McCabe, 10, of St. Louis, Missouri, was vacationing with his family on the Alabama coast when he was hit by a log washed in by a large wave. Cindy also caused widespread coastal highway and street flooding and several short-lived tornadoes.
A suspected tornado near Birmingham, Alabama, flattened businesses and injured one person Thursday. Authorities said a man drowned Friday while trying to help children in rough surf in the same area.
Related:
Copyright 2018 Associated Press. All rights reserved. This material may not be published, broadcast, rewritten or redistributed.
Was this article valuable?
Here are more articles you may enjoy.