Thurs., Sept. 13, 11 am: Hurricane Florence was downgraded to a Category 2 hurricane yesterday as its maximum sustained winds decreased today to about 110 mph, according to NOAA. The winds were clocked at 105 mph today.
Florence's rains have started to fall on the Outer Banks of North Carolina.
NOAA said the center of Florence is expected to approach the coasts of North and South Carolina on Thursday, then move near or over the coast of southern North Carolina and eastern South Carolina in the hurricane warning area on Thursday night and Friday. A slow motion over eastern South Carolina is forecast Friday night and Saturday.
Little change in strength is expected before the center reaches the coasts of the Carolinas, with weakening expected after the center moves inland.
Even though it has been downgraded, Florence remains a large and dangerous hurricane, according to NOAA.
Storm surge as high as 9 feet in some places and extreme rainfall of 30 to 40 inches can be expected. Even a few tornadoes are possible.
NOAA warned of the hazards ahead: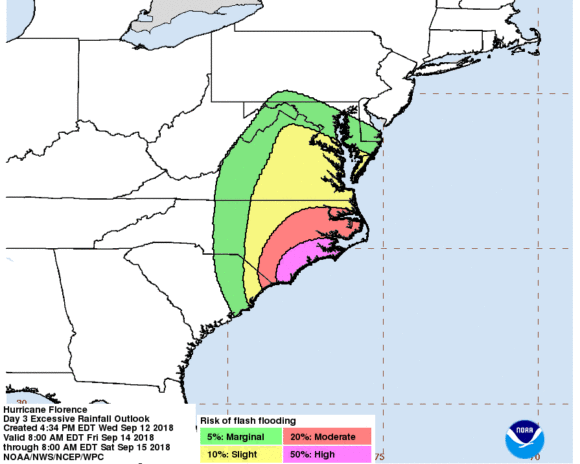 STORM SURGE: The combination of a dangerous storm surge and the tide will cause normally dry areas near the coast to be flooded by rising waters moving inland from the shoreline. The water has the potential to reach the following heights above ground if peak surge occurs at the time of high tide:
Cape Fear NC to Cape Lookout NC, including the Neuse, Pamlico, Pungo, and Bay Rivers…9-13 ft
North Myrtle Beach SC to Cape Fear NC…6-9 ft
Cape Lookout NC to Ocracoke Inlet NC…6-9 ft
South Santee River SC to North Myrtle Beach SC…4-6 ft
Ocracoke Inlet NC to Salvo NC…4-6 ft
Salvo NC to North Carolina/Virginia Border…2-4 ft
Edisto Beach SC to South Santee River SC…2-4 ft
RAINFALL: Florence is expected to produce heavy and excessive rainfall in the following areas:
Coastal North Carolina…20 to 30 inches, isolated 40 inches. This rainfall would produce catastrophic flash flooding and significant river flooding.
South Carolina, western and northern North Carolina…5 to 10 inches, isolated 20 inches.
Elsewhere in the Appalachians and Mid-Atlantic states…3 to 6 inches, isolated 12 inches.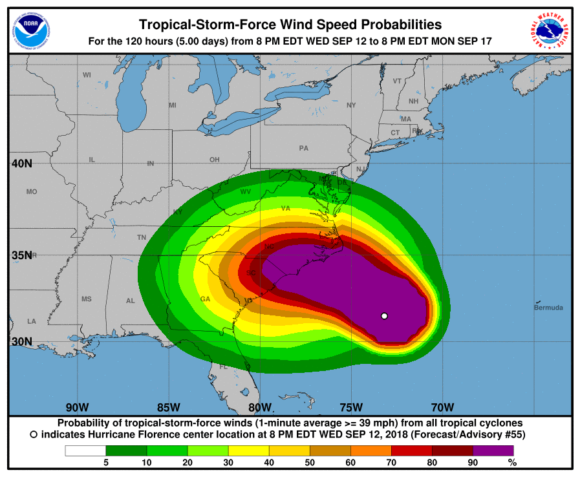 WIND: Hurricane conditions are expected to reach the coast within the hurricane warning area late Thursday or Friday. Winds are expected to first reach tropical storm strength on Thursday, making outside preparations difficult or dangerous. NOAA noted that hurricane-force winds extend outward up to 80 miles (130 km) from the center and tropical-storm-force winds extend outward up to 195 miles (315 km).
TORNADOES: A few tornadoes are possible in eastern North Carolina through Friday
SURF: Swells generated by Florence are affecting Bermuda, portions of the U.S. East Coast, and the northwestern and central Bahamas. These swells are likely to cause life-threatening surf and rip current conditions.
Source: NOAA
Was this article valuable?
Here are more articles you may enjoy.