Florida Governor Ron DeSantis has appointed Dr. Julia Nesheiwat as Florida's first Chief Resilience Officer (CRO). The CRO will be tasked with preparing Florida for the environmental, physical and economic impacts of sea level rise.
"Developing resilience goals for the state will help to protect our coastal communities and fortify Florida's pathway to continued prosperity," said Governor DeSantis said in a statement on the appointment, announced Aug. 1. "Today, we take the step of appointing Florida's first Chief Resilience Officer to coordinate a statewide response to prepare for the environmental, physical and economic challenges facing our state."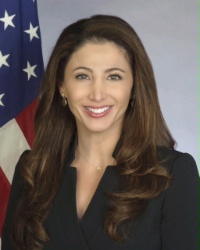 DeSantis said Nesheiwat's more than 20 years' experience operating in government and academia focusing on renewable energy, environmental and critical infrastructure issues "make her an excellent choice for this position."
The CRO will report to the Executive Office of the Governor and will work in partnership with the Florida Department of Environmental Protection, the Florida Department of Transportation, the Florida Division of Emergency Management, the Florida Department of Agriculture and Consumer Services, the Florida Fish and Wildlife Conservation Commission and the Florida Department of Economic Opportunity, in addition to local communities and stakeholders.
Nesheiwat has more than 20 years of renewable energy and environmental experience focused on water and natural resources as a senior executive in federal cabinet-level agencies, academia and as a combat veteran. She has serving in a variety of positions, including as former Deputy Assistant Secretary of State building the first Energy Resources Bureau working closely with the Oceans, Environment and Science Bureau and serving as chief of staff to Special Envoys and Under Secretary for Energy, Environment and Sustainability.
She also managed the resiliency and energy working group on the World Economic Forum's (WEF) Global Advisory Council and is an advocate on energy and environmental programs and critical infrastructure protection (CI), power sector sustainability and innovation projects.
Nesheiwat previously served as a visiting professor at the Naval Post Graduate School on Energy & Environmental Security and Lecturer at University of California San Diego & Stanford University. She is a former U.S. Army intelligence officer with combat tours in Afghanistan and Iraq.
Source: Office of Florida Governor Ron DeSantis
Was this article valuable?
Here are more articles you may enjoy.