Curi—a provider of professional liability and other lines of insurance, as well as services for physicians—has appointed Jason Sandner as its next chief executive officer.
Sandner will take the helm on July 1, 2021, when current CEO Dale Jenkins steps down after more than 25 years of service to the member-owned company. Jenkins will continue to serve on Curi's Board of Directors.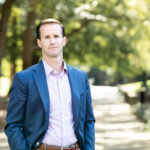 Sandner, who is currently Curi's chief operating officer and chief financial officer, was selected following a multi-month nationwide search led by Curi's board with the assistance of executive search firm Heidrick & Struggles. A senior executive with two decades of financial, operational, and managerial expertise, Sandner has managed the financial strategy of Curi and its affiliates, inclusive of its insurance and investment operations, for more than a decade—helping to grow the company to $1.2 billion in assets in partnership with Jenkins and Curi's leadership team.
Sandner joined Curi in 2011 as vice president of Finance, was quickly promoted to chief financial officer, and has more recently taken on the chief operating officer role as well. Prior to his work with Curi, Sandner was a Partner at Johnson Lambert & Co. LLP. He is also a member of several boards—including The North Carolina Medical Society Foundation, the philanthropic arm of the state's medical society.
Curi provide products, services, and experiences for physicians and those who support them, from professional liability and other lines of insurance, to wealth management and advisory services. The company was built by doctors for doctors and was founded as Medical Mutual Insurance Company of North Carolina in 1975.
Was this article valuable?
Here are more articles you may enjoy.