McGriff has hired Dain Jorgenson as a senior vice president and producer in its Birmingham-based Energy Practice.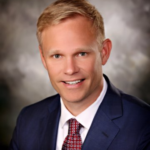 Jorgenson joins McGriff from Insurance Risk Partners, where he served as senior vice president and was responsible for developing new opportunities and solving complex risk transfer and project development problems in the renewables, power, oil & gas, infrastructure, and heavy chemical manufacturing industries. He previously served as vice president, Business Development, at Hayes Companies in the firm's Power and Utility Division. He has also been a member of the Iowa Wind Energy Association for more than eight years, four of which he served as president of the board of directors.
Jorgenson will work to provide additional resources to McGriff clients in the energy industry and help drive growth in McGriff's Renewables practice.
McGriff is a full-service insurance broker providing risk management and insurance services to clients across the United States. The firm's coverages include commercial property and casualty, corporate bonding and surety services, cyber, management liability, captives and alternative risk transfer programs, small business, employee benefits, title insurance, personal lines, and life and health. McGriff Insurance Services, Inc. is a subsidiary of Truist Insurance Holdings.
Topics Alabama
Was this article valuable?
Here are more articles you may enjoy.