A federal judge on Tuesday sentenced former Georgia Insurance Commissioner Jim Beck to seven years in prison and ordered him to pay $2.6 million in restitution for diverting funds from a homeowners' insurer of last resort.
The 87 months behind bars "is less than what the government wanted, but more than what we had asked for," said Atlanta defense attorney William Thomas, who represented Beck during his trial and sentencing.
Beck, 60, is out on bond until he reports to the U.S. Bureau of Prisons after Dec. 1, Thomas said.
The U.S. Attorney for the Northern District of Georgia had asked that Beck be sentenced to 10 years in prison for the elaborate fraud, which involved a number of sham companies, a fictitious individual, and money laundering.
The defense had asked for five years after Beck was convicted in July of embezzling almost $3 million from Georgia Underwriters Association, a corporation he managed that provided property insurance to residents who struggled to find it in the marketplace. U.S. District Judge Mark Cohen agreed with the defense attorneys' arguments on some points, but not on others.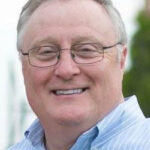 Beck, a former deputy commissioner at the Georgia Department of Insurance, also must forfeit four properties in the Atlanta area along with hundreds of thousands of dollars in bank accounts. Most of the restitution will go to Cincinnati Insurance Co., which repaid the underwriting association for the losses it incurred in Beck's fraud. About $358,000 will go to the U.S. Internal Revenue Service for taxes Beck avoided.
Beck had siphoned the funds from the underwriting association by claiming that hired consultants were providing data research and other services, from 2013 to 2018. Prosecutors said many of those invoices were a front for payments that went to Beck's personal accounts, including one used in his successful campaign for insurance commissioner in 2018. Just weeks after Beck took office, he was indicted and was removed from office.
On Tuesday, Beck was allowed to exercise his right to speak at the sentencing.
"I'm completely and totally responsible, and again, I accept the jury's verdict," Beck said, according to a local news report. "I hope that I have made life better more than I've hurt people. I do know that I have actively damaged precious relationships and I pray for restoration."
Beck's wife and two friends testified as character witnesses Tuesday. Their statements were not available, but in letters to the judge, other friends and associates spoke of Beck's good deeds in the community. One claims adjuster called him a "faithful Christian with a kind heart."
Another friend called Beck, a former president of the Georgia Christian Coalition, "the hardest working man I have ever met." A minister and licensed counselor noted that Beck had received mental health counseling and treatment over the past 25 years, for issues related to addictive personality, post-traumatic stress disorder and depression. The minister said that Beck was born to teenage parents who lived with his grandparents. Beck witnessed repeated instances of violence in the family while growing up.
Thomas said Beck is in reasonably good health. "For a 60-year-old man, he's doing alright."
Topics Georgia
Was this article valuable?
Here are more articles you may enjoy.