Florida Gov. Ron DeSantis signed property insurance and condominium maintenance reform legislation into law Thursday, putting an exclamation point on a whirlwind of lawmaking that began just a week ago when the bills were drafted and filed.
"This package represents the most significant reforms to Florida's homeowners insurance market in a generation," DeSantis said in a statement. "These bills will help stabilize a problematic market, help Floridians harden their homes through the My Safe Florida Home Program, and pave the way for more choices for homeowners."
The two-bill package took effect immediately. Among other major reforms, Senate Bill 2D aims to put an end to the practice of contractors offering "free roofs" by barring attorney fees for those who are assigned benefits. Another law, Senate Bill 4D, modifies state building code that often required whole-roof replacement if just a quarter of the roof surface is damaged.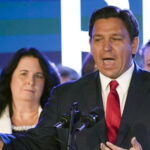 While the Legislature was debating the measures in special session this week, though, some roof contractors saw the writing on the wall and stepped up solicitation of homeowners, Florida Chief Financial Officer Jimmy Patronis said.
"My office has received recent reports that unscrupulous contractors are trying to get out in front of the recent legislative changes made during special session by ramping up their solicitation schemes and sending out flyers to Florida residents," Patronis said in a statement Thursday evening. "I'm urging all Floridians to beware of fly-by-night roofers and contractors looking to take advantage of consumers."
Patronis praised the legislation and the governor's quick signing of it. Insurance Commissioner David Altmaier, whose office came under fire during the three-day legislative session, also smiled on the changes that will require more oversight and reporting from his understaffed department.
"This legislation strengthens protections for Florida insurance consumers, provides greater tools to hold insurance companies accountable, and promotes the long-term stability of our market," Altmaier said.
Some insurance industry groups had concerns about the efficacy of a new, lower-level reinsurance program authorized by the bill, and about a prohibition on insurers' refusing to write homes with roofs that 15 years old or less. But most agreed the legislation is a significant step toward reducing roof claims and litigation costs.
"This is a great bipartisan achievement for Florida consumers," said Michael Carlson, head of the Personal Insurance Federation of Florida.
Several Democrats in the House and Senate charged that the bills help rescue insurance companies but don't do enough to reduce premiums for homeowners. Legislative leaders agreed that most policyholders won't see much effect for another 18 months.
The reinsurance plan, known as the RAP fund would require participating insurers to provide rate reductions by the end of June. Those could amount to 3% to 4% for insureds, according to John Rollins, an actuary and former CFO for Olympus Insurance Co. The State Board of Administration, which oversees the RAP program and the cat fund, posted information about the plan on its website.
The condo reform legislation was folded into SB 4D. It, too, takes effect immediately and requires inspections for high-rise condominiums, everywhere in the state, 30 years after construction. For condos closer to the coast, inspections would be done more frequently. Condo associations also would no longer be able to postpone needed repairs.
The measure was adopted 11 months after the collapse of the Champlain Towers South condo building near Miami Beach, which killed 98 people.
The governor called the special session after lawmakers in March did not adopt significant reform measures. The bills were crafted by the governor's office, Sen. Jim Boyd, Rep. Jay Trumbull and others and, some legislators said, ended up with stronger anti-assignment of benefits and litigation-limiting provisions than did bills that were discussed during the regular session.
Topics Florida
Was this article valuable?
Here are more articles you may enjoy.