Preliminary estimates of insured losses from Hurricane Idalia have already begun, with about $9 billion in losses predicted for Florida alone.
The estimates are far lower than some in Florida had feared and well below the $60 billion in losses from Hurricane Ian, which followed a similar path less than a year ago but targeted more heavily populated areas on Florida's southwest coast.
UBS, the multinational investment bank, said Wednesday that its estimates for Florida range from $4 billion to $25.6 billion, with an average of $9.36 billion, Reuters news service reported. That would mean Idalia would cost insurers less than 10 of the costliest hurricanes to hit the United States.
BMS, the reinsurance brokerage, pegged losses at $3 billion to $6 billion. "This is not the devastating event that was feared even 24 hours ago," the company said in a web posting Wednesday evening. Karen Clark & Co. estimated private insured losses would be as low as $2.2 billion.
AccuWeather, a global forecast service, said that total damage and economic losses for the Southeastern states hit by Idalia would be in the $18 billion to $20 billion range.
"To put this event into context … Hurricane Ian last year, impacting a much more densely populated area, brought total damage and economic loss of $180-210 billion," AccuWeather said in a bulletin. "Hurricane Michael in 2018 devastated parts of the Panhandle area of Florida, again in a slightly more populated area than Idalia, with a total damage and economic loss of about $30 billion."
Idalia made landfall Wednesday morning as a Category 3 hurricane in Florida's Big Bend area, a low-lying area with no large cities. The storm spared the Tampa metro area, with more than 3 million people, from the worst of the wind and surge.
Still, the hurricane came at a shaky moment for the insurance industry, just as four new property-casualty insurers have entered the long-distressed Florida market. The CEO of one of those carriers, Orion180 Insurance, said Idalia has not changed his company's plans for Florida.
"No, and we feel this is something the market can absorb," Orion180 Insurance CEO Ken Gregg said Wednesday.
Orion180 is based in Florida but does not yet have policies in the state. Its main book of business is in South Carolina, where a diminished Idalia blew through early Thursday. Gregg said the estimated losses there appeared to be manageable and covered by reinsurance. "It's within our retention," he said.
He worried that insurers that do write in the affected part of Florida, including the state-created Citizens Property Insurance Corp., will feel some pain. Many structures in the Big Bend area are older and have not been elevated or built to the stronger construction codes now required in south Florida.
Officials with one of the largest carriers in the affected part of Florida, Security First Insurance, said the damage, so far, appeared to be much lighter than expected.
"We sort of feel like the Maytag repairman: The phone's not ringing off the hook," said Melissa Burt DeVriese, president of Security First.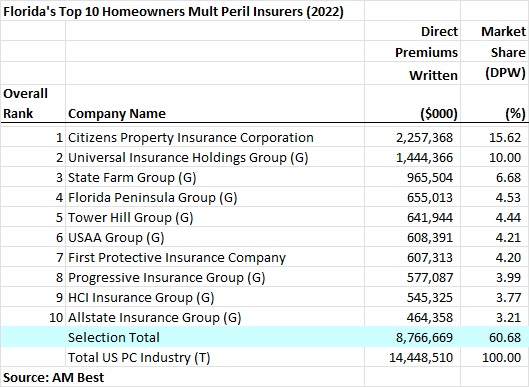 She said the carrier has seen 152 claims, including 21 homes in Taylor County with severe damage and a few in Pasco County. Damage has come from fallen trees, roof shingles ripped off, and flooding. Independent adjusters for Security First have reported that losses may be about 50% of what they had expected, DeVriese said.
For Citizens, it was too early to venture an estimate Thursday morning. "We're fortunate that it hit an area that was not densely populated," spokesman Michael Peltier said.
Reinsurers may see the insured losses from Idalia as a reason to raise prices yet again, which could lead to Florida P/C insurers seeking another round of rate increases for their insureds.
"Historically, what happens when you have these hurricanes is that everyone gets worried about the liability following the hurricane," said Thomas Hayes, chairman and managing member of Great Hill Capital LLC in New York, adding that insurers typically end up being able to raise prices after such events, Reuters reported.
Nationally, U.S. reinsurance rates for policies that had claims for natural catastrophes rose 30%-50% during July renewals, while in Florida the increase was 30%-40%, reinsurance broker Gallagher Re said in July.
Much of the impact from Idalia will likely be from flooding, after the storm produced a storm surge on Florida's coast of more than 8 feet.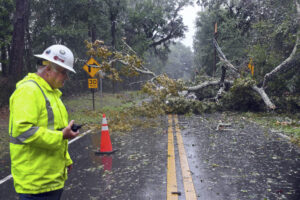 "We see tremendous flooding in the Big Bend region along with many trees and power lines down. It could take weeks for some parts of Florida to get power back after this devastating storm," AccuWeather's chief meteorologist, Jonathan Porter, said in a statement.
Cedar Key, Florida, near the eyewall, looked "apocalyptic" after the storm. City Hall took on eight feet of water, news outlets reported. In Perry, Florida, winds broke store windows, tore siding off buildings and knocked over a gas station canopy, the Associated Press and others reported.
In Steinhatchee, Florida, businesses and houses were swallowed up by water from Deadman's Bay. In Charleston, South Carolina, the surge swelled over a seawall and sent several inches of water into the streets, AP noted.
Idalia, like Hurricane Ian and other storms, has highlighted the huge flood insurance gap in coastal areas.
The share of federally flood-insured properties in Taylor County, Florida, where the storm made landfall, is only 5.4%. In Hillsborough County, home to Tampa, it's 20%, Bloomberg reported. But that still leaves four out of five properties unprotected. Only 18% of Floridians have flood insurance, according to the Insurance Information Institute.
That flood insurance gap is closing, if only slightly. The Florida Legislature last year required most insureds with state-run Citizens Property Insurance Corp. to also purchase flood coverage, but that requirement does not fully phase-in until 2027.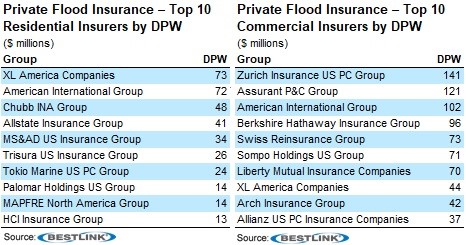 Top photo: Tampa Fire Rescue Department members remove a street pole after a large awning from an apartment building blew off Wednesday. (AP Photo/Chris O'Meara)
Reuters, Bloomberg and Associated Press news services contributed to this report.
Topics Florida Profit Loss
Was this article valuable?
Here are more articles you may enjoy.