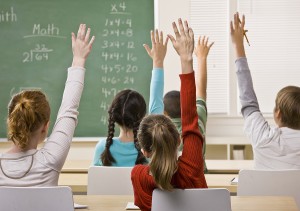 The California Supreme Court ruled that a public school district may be vicariously liable for the negligent hiring, retention and supervision of a guidance counselor who allegedly sexually abused a student.
And that ruling may have insurers taking a closer look at clients to whom they issue employment practices liability insurance.
The court issued its ruling on March 8, reversing a dismissal in C.A., a Minor, v. William S. Hart Union High School District. A trial court had sustained the school district's demurrer, and a court of appeal affirmed. The Supreme Court ruling reversed that affirmation.
The Supreme Court ruled on the question presented as to whether the school district may be found vicariously liable for the acts of its employees.
In a unanimous decision, the judges answered a resounding "Yes," noting that school administrators, such as principals and human resources professionals, have a "special relationship" with students.
In the court's ruling, it states:
"We conclude plaintiff's theory of vicarious liability for negligent hiring, retention and supervision is a legally viable one. Ample case authority establishes that school personnel owe students under their supervision a protective duty of ordinary care, for breach of which the school district may be held vicariously liable."
In short, what the court found is that if supervisory or administrative employees of the school district are proven to have breached that duty, the liability falls on the school district.
"That is a bit of an expansion of the law," said Michael Adreani, a partner at the Woodland Hills, Calif. law offices of Roxborough, Pomerance, Nye & Adreani LLP. Adreani specializes in areas including bad faith litigation, class actions, insurance regulation and employer liability.
"The nexus that they draw is between the hiring individuals and the victims," he added.
The law won't apply to every state agency, but only those who have a "special relationship" with the victims, Adreani noted.
"This wouldn't work in a case where it was a coroner's office, for example," he said, adding that "people who hired the coroner don't have a special relationship with a corpse."
But the law could apply to other agencies where a special relationship between administrators and victims may exist.
"You can foresee it being used in other agencies – rehabilitation for example, where there may be a special relationship with the victim," he said.
The ruling allows attorneys for the plaintiff to go back and pursue the case to find out if principals or human resources professionals within the district were negligent in hiring Roselyn Hubbell, the counselor alleged to have molested the student.
It also enables attorneys to question policies and procedures in place for hiring such individuals, and look into whether those guidelines were followed, Adreani said.
And now insurers offering employment practices liability insurance may be saying to their education clientele more often, "if you want EPLI insurance, you have to follow these procedures," he said.
The harassment and molestation of the plaintiff allegedly began around January 2007 and continued through September of that year, according to court documents. The plaintiff, a young male, was roughly 14 years old when the alleged harassment began at Golden Valley High School in the William S. Hart Union High School District. His alleged abuser was Roselyn Hubbell, the head guidance counselor at his school.
The boy was assigned to Hubbell for counseling, and she began to spend many hours with him on and off high school premises. According to court documents, the charges are that Hubbell engaged in sexual activities with the boy and required him to engage in sexual activities, including embraces, massages, masturbation, oral sex and intercourse.
The plaintiff suffered emotional distress, anxiety, nervousness and fear, according to court documents.
In a cause of action for negligent supervision, the plaintiff's attorneys alleged that the district, through their employees knew or should have known of Hubbell's "propensities" and "failed to use reasonable care in investigating her."
In short, the plaintiff's argument was that the district was on notice of Hubbell's alleged molestation of students before and during her employment by the district, but did not reasonably investigate her and failed to use reasonable care to prevent her abuse of the plaintiff.
The district demurred to the complaint, arguing the negligent supervision and negligent hiring and negligent retention causes of action failed to state a claim because of the lack of statutory authority for holding a public entity liable for negligent supervision, hiring or retention of its employees. The trial court sustained the district's demurrer and dismissed the action, and a court of appeal affirmed that dismissal.
Kara MacDonald, an account executive for Lockton Insurance Brokers LLC who specializes in higher education, said the ruling drives home a point in her field.
"Being proactive in this is huge," she said.
Looking at the hiring and screening policies of her clients are an often talked about topic, as is examining what carriers provide, she said, adding that looking at those policies for hiring may become even more crucial.
Because when allegations of molestation or harassment are made, not all carriers provide essentials to dealing with such events, such as crisis management public relations, she said.
"It's definitely one of those situations where it's not so much a frequency issue, it's a severity issue when they come through," she said. "It's really good to look at these policies to understand what your carrier can provide you."
She also believes the ruling will likely get more people talking to their clients more not only about hiring practices, but best practices in general.
She said that nearly everyone can be held liable in such situations, "from a janitor walking in on something, to the principal possibly knowing something and not reporting it," she said. "Coverage may be denied if people know about something and do not report it. Knowing your reporting provisions is really, really important."
In the eyes of the Supreme Court justices, who cited throughout their decision case law establishing the relationship between school administrators and students as well as those administrators' duties to the students, screening and reporting an alleged molester is part of an administrator's job.
"While school districts and their employees have never been considered insurers of the physical safety of students, California law has long imposed on school authorities a duty to 'supervise at all times the conduct of the children on the school grounds and to enforce those rules and regulations necessary to their protection," the ruling stated. "The standard of care imposed upon school personnel in carrying out this duty to supervise is identical to that required in the performance of their other duties. This uniform standard to which they are held is that degree of care 'which a person of ordinary prudence, charged with [comparable] duties, would exercise under the same circumstances.' Either a total lack of supervision or ineffective supervision may constitute a lack of ordinary care on the part of those responsible for student supervision."
Therefore, the court ruled, "a school district is vicariously liable for injuries proximately caused by such negligence."
Topics California Legislation Talent Education Training Development
Was this article valuable?
Here are more articles you may enjoy.