A Montana jury has awarded an office supply manufacturer $52 million in its lawsuit against its former bank.
Masters Group International Inc. sued Comerica Inc. after the bank reneged on a November 2008 agreement to delay collection of a $10.5 million line of credit while Masters negotiated another credit line that required it not be in default with Comerica.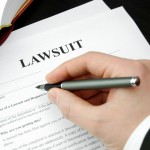 Masters' attorney Timothy Strauch told the Missoulian (Comerica took all $9 million from Masters accounts in December 2008, effectively leading to the death of the company, which had planned to open a distribution center in Butte.
The lawsuit began when the Butte Local Development Corp. sought to recoup a $200,000 loan it made to Masters Group in 2006. Master's brought Comerica in as a third-party defendant.
Dallas-based Comerica says it may appeal Friday's verdict.
Copyright 2021 Associated Press. All rights reserved. This material may not be published, broadcast, rewritten or redistributed.
Was this article valuable?
Here are more articles you may enjoy.