The Los Angeles Times is reporting that state Sen. Ron Calderon has been indicted in a corruption case and accused of taking about $100,000 in bribes from a hospital executive in Southern California who ran an alleged workers' compensation scheme.
Federal authorities alleged that Calderon, D-Montebello, took the bribes from a Long Beach hospital official and that he received received cash bribes, trips and dinners in exchange for "official acts," according to the L.A. Times story.
The 56-year-old faces 24 counts of fraud, wire fraud, honest services fraud, bribery, conspiracy to commit money laundering, money laundering and aiding in the filing of false tax returns, the paper reported.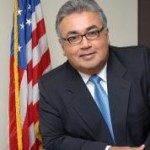 California State Compensation Insurance Fund also has a lawsuit against the hospital executive that levies a number of allegations, including racketeering and upcoding.
The executive is Michael Drobot, who ran a spinal surgery clinic in Long Beach.
An Al Jazeera America news article that broke a story in October 2013 on an FBI investigation leading to the eventual indictment outlined an FBI affidavit that alleged Calderon's behind-the-scenes role in the workers' comp payment controversy:
"According to the affidavit, Calderon concealed bribe payments from Drobot through his brother, former Assemblyman Thomas Calderon, and his son, Zachary, a student at Berklee College of Music in Boston. Thomas Calderon received a monthly consulting fee of at least $10,000 from Drobot, plus a one-time payment of $1 million. The affidavit says Drobot paid $28,000 to Ronald Calderon through his son, who worked a summer job at Drobot's hospital, although most of the money went directly into the state senator's bank account."
State Fund's complaint, which was filed in U.S. District Court in the Central District of California Southern Division, alleges fraud, violations of the Racketeer Influenced and Corrupt Organizations Act, and unfair competition among other charges. The suit accuses the defendants of a practice known as upcoding, which refers to using medical treatment codes to submit insurance claims that represent a substantially higher billing price than the set amount for the actual services that were actually delivered.
Was this article valuable?
Here are more articles you may enjoy.