The recent plague of wildfires in Southern California and in neighboring states seems to have more people checking on their homeowners policies – and more people concerned about the threat of wildfires may be taking some mitigation steps insurers have been harping on for so long.
The fires have garnered ample coverage by the media, and California Gov. Jerry Brown in May said the state is gearing up for its worst fire season ever.
Agents for Fireman's Fund Insurance Co. are reporting getting several calls a day that have been spurred by wildfires. Agents usually field a few calls a day regarding coverages, and none related to wildfire concerns, according to the Novato, Calif.-based carrier.
"Agents are getting a lot of calls from policyholders making sure they have the proper coverage," said Kathleen Stalter, risk services manager at Fireman's Fund. "I think it's human nature to sit back and say 'Yeah, yeah, yeah,' and then it happens. I think in a lot of ways it's a wakeup call to say, 'OK, it's time to take this seriously.'"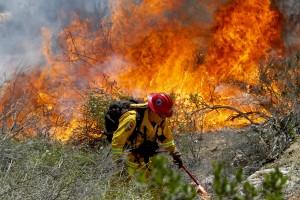 Stalter said Fireman's Fund agents are getting hit up with questions like: "Do I have enough coverage for my dwelling and contents?" "Do I have the right coverages, property, collections, landscaping, wildfire suppression?" "Do you have vendors available to clear defensible space, seal eaves, spray fire retardant on my home?"
Beside checking on insurance, some homeowners may be finally heeding the advice of their insurance company or insurance agent and looking at ways to improve the odds of their home surviving a wildfire.
Some vendors who do fire suppression and offer other services to mitigate the risks of wildfire have been busier as of late.
"It really is an unprecedented season," said Jim Aamodt, owner of Arvada, Colo.-based Firebreak Spray Systems Inc. The company reports it's getting an uptick in calls to come out and do preemptive spraying.
It works with insurers like high net worth carrier Privilege Underwriters Reciprocal Exchange Group of Insurance Cos., which recently expanded into California, and other insurance companies around the Western United States. A major part of its business model is sending out trucks to spray a chemical retardant known as Phos-Chek in the brush and on potentially ignitable surfaces around homes in wildfire danger areas.
When a fire strikes the company checks all of the policies its insurer partners have in place in a certain area, then it sends out trucks to service those homes. The long-term fire retardant is the same compound material dropped by firefighting aircraft. It creates a chemical barrier around whatever is gets sprayed on, and continues to be active until some rains wash it away.
As a result of the fires and the publicity the bad fire season is getting, the company is getting double the amount of daily calls as usual and is beefing up its workforce by roughly 25 percent, Aamodt said.
To help it meet the demand Firebreak is talking with more retailers about carrying the product in stores to sell directly to homeowners who want to conduct spraying themselves, Aamodt said.
"We're preparing for this you to be a much more active year than in the past," Aamodt said.
Many more homeowners and community leaders have also actively been seeking advice on how to prepare for wildfires, according to the Firewise Communities Program. The program, under the umbrella of the National Fire Protection Association, reports increased visits to its Firewise.org website and numerous calls from individuals and communities.
"If there's a growth area in fire, it's wildfire," said Firewise spokeswoman Lorraine Carli. "More fires are happening in places that have not experienced wildfires before. Homeowners and community officials are all very interested in what they can do to make their community and homes safer for wildfire."
One group that makes informing homeowners about the dangers of wildfire is the Insurance Information Network of California.
"We see a definite increase in our web hits when we have major fires, and this year we noticed an increase over last year because of all the big fires that have happened," spokesman Pete Moraga said.
IINC puts out information each wildfire season to encourage homeowners to make a home inventory, and to take steps to fortify their homes against wildfire damage, such as having meshed vents to prevent embers from getting in the home, and installing double paned windows.
"With all of these wildfires that we have it's a great wakeup call for homeowners that the need to be prepared," Moraga said.
Topics Carriers California Catastrophe Natural Disasters Agencies Wildfire Homeowners
Was this article valuable?
Here are more articles you may enjoy.