Shooting ranges in White City, Ore. are reopening after the National Rifle Association agreed to provide insurance coverage.
The 18 ranges were forced to close July 1 because their insurance carrier dropped coverage after a man filed a claim after he was injured by a piece of debris that flew back during target practice.
White City is an unincorporated community in Jackson County, about 10 miles north of Medford.
Phil Grammatica, president of the Rogue Valley Shooting Sports Association, said the NRA agreed to provide coverage as long as users sign a liability waiver before they target practice. The NRA insurance will cost less than $2,000 a year, compared with $6,700 under the canceled policy.
The waiver requires a printed name, signature, date and the day-pass number. However, no identification is required.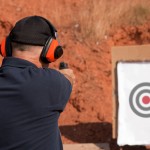 If the waiver isn't signed, then using the range is considered theft of county property, Grammatica said.
According to the waiver, only cardboard targets are allowed and all safety rules must be followed. No glass, metal or rocks can be used as targets.
The waiver notes that the shooting ranges involve potentially hazardous and dangerous activity with the risk of personal injury, including death and loss or damage to personal property.
Moreover, ear and eye protection is required during target practice, Grammatica said. Previously, protection was recommended but not required.
"We're trying to make a safe, clean asset for the county," Grammatica said.
Bob Drysdale, president of the Medford Rifle and Pistol Club and treasurer of the shooting sports association, said the association's goal is to have a ranger present at all times. Eventually, another ranger could be posted at the entrance to make sure the money is collected and the waivers signed.
Another area of the shooting ranges is set aside for 19 law enforcement agencies, but these weren't affected by the shutdown because police carry their own insurance.
Each range is designed for different types of target practice, including pistol, rifle, muzzle loader, bow and shotgun.
Copyright 2021 Associated Press. All rights reserved. This material may not be published, broadcast, rewritten or redistributed.
Topics Oregon
Was this article valuable?
Here are more articles you may enjoy.