Drivers for smartphone-based ridesharing services are facing steep fines from Salt Lake City officials, who assert the drivers are running unlicensed taxi services.
Some drivers for the app-based service Lyft say they've been fined $6,500 for a single ticket.
David Everitt, chief of staff to Salt Lake City Mayor Ralph Becker, says the city warned the companies they would face fines.
He says Salt Lake City has issued more than 100 warnings and fined 17 drivers.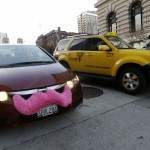 Lyft officials argue the ridesharing is different from taxi services and the company is paying any fines its drivers incur.
Everitt told The Salt Lake Tribune that Salt Lake City hopes to create a new license for drivers on Lyft or similar services in order to ensure the companies are licensed and insured.
Copyright 2020 Associated Press. All rights reserved. This material may not be published, broadcast, rewritten or redistributed.
Was this article valuable?
Here are more articles you may enjoy.