"It's been a busy week," said Glen Pomeroy, CEO of the California Earthquake Authority.
The magnitude 6.1 earthquake that struck Northern California in the early hours of Aug. 24 may cause up to $4 billion in economic losses by some estimates – most of that is believed to be uninsured losses. It was the strongest earthquake to hit the San Francisco Bay area since the 1989 Loma Prieta earthquake, which registered a magnitude 6.9,
People like Pomeroy, as well as insurers and others from the industry, have descended on the area over the last few days to get damage estimates, take pictures and figure how where to go next with recovery efforts and beyond.
As far as the quake's concerned, Pomeroy is grateful for at least two things. The quake struck at 3:20 a.m. and severely damaged several buildings with no one in them at the time, particularly in the heavily traveled tourist area of Napa.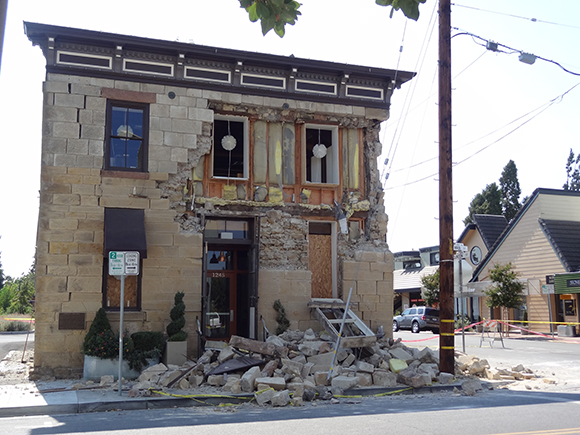 Pfeiffer Building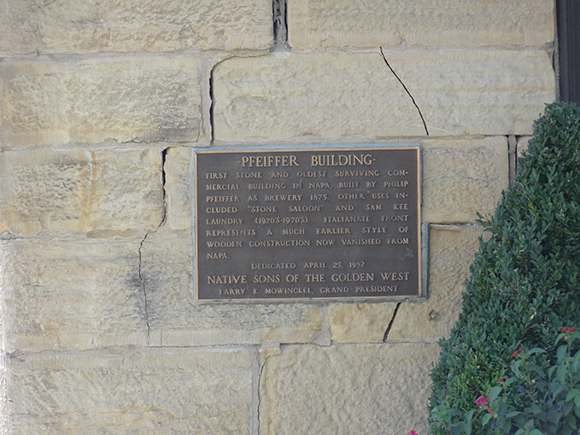 Pfeiffer Building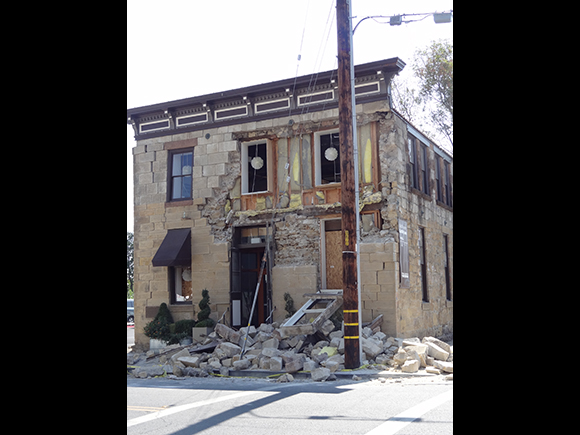 Pfeiffer Building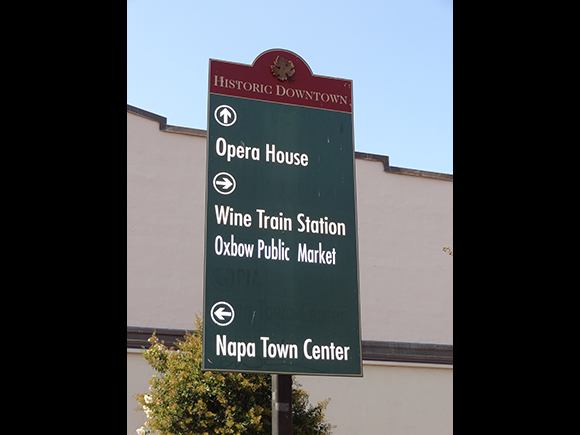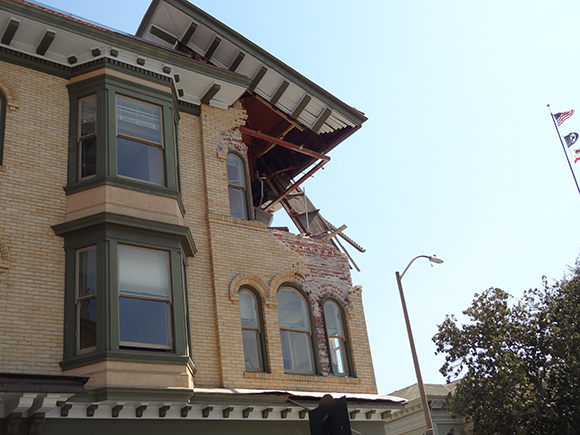 Downtown Napa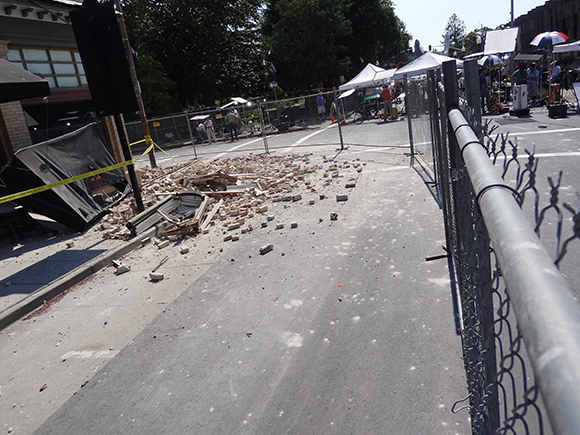 Downtown Napa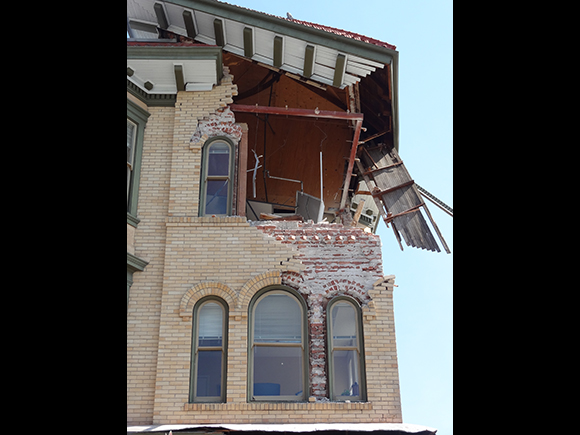 Downtown Napa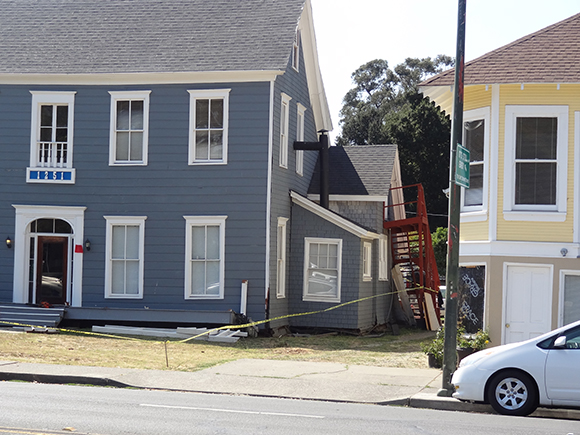 House on Jefferson Street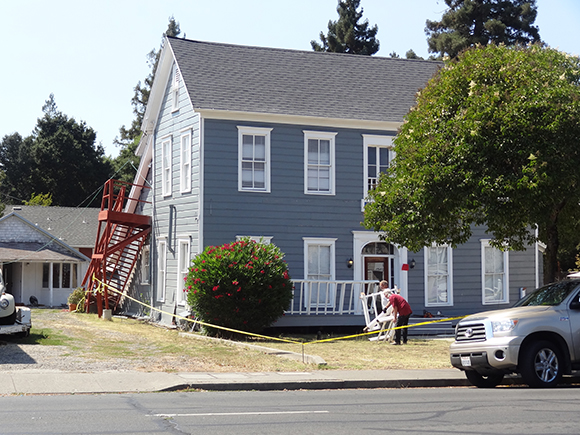 House on Jefferson Street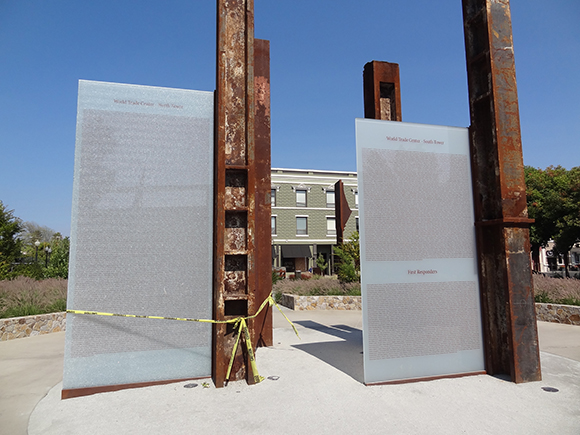 World Trade Center Memorial
Photos by Amy O'Connor, Insurance Journal
"It's fortunate it struck so early because a lot of the damage in the downtown historic area could have been fatal," Pomeroy said.
One would think that because so few of the losses in the area will likely be claims paid by CEA or other insurers – the Napa area has roughly a 6 percent take up rate on earthquake insurance compared with under 11 percent for the rest of the state, according to CDI figures – that would be Pomeroy's second reason to be grateful. Not so.
Pomeroy is also grateful for what he sees as an opportunity to go forward and spread the word to that underinsured community and its neighbors about earthquake insurance.
Residents in the area may soon expect to see more television, website and print advertising, as well as direct mail marketing, telling them about CEA earthquake insurance products.
"We're definitely talking about how to do some targeted marketing and do some focused messaging," Pomeroy said.
A big part of those messages will likely be one of CEA's newest insurance products, CEA Choice, Pomeroy said.
The product enables homeowners to insure a structure for the same amount that homeowners insurance covers it for, and it allows for content coverage.
Before the new coverage was available homeowners who suffered earthquake damage had to reach their structural damage deductible before insurance would kick in to cover content loss. Now, with CEA Choice, insureds can get a content deductible, Pomeroy said.
He believes the product will resonate, because many homes affected by the Northern California quake experienced much more content damage than structural damage, Pomeroy noted.
Pomeroy believes people are more receptive to a message about earthquake insurance after an event like this.
CEA policy sales spiked following an M5.1 quake in March, as did traffic to the authority's website.
CEA experienced another surge in web interest after the Aug. 24 jolt.
"I will tell you the last few days our website traffic has skyrocketed compared to normal," Pomeroy said.
Normally traffic to the site is roughly 3,000 hits depending on whether it's a weekday or weekend.
"On Sunday, when the average is about 3,000 hits, we had about 17,000 hits, and the following day we had about 17,000 hits and Tuesday we had about 24,000 hits," Pomeroy said.
One of the biggest losers in the quake seemed to be wineries, with reports of shattered wine bottles in retail stores as well as at the wineries themselves, and broken wine barrels in some cases with high dollar values per barrel.
According to Robert Berg of Michelman & Robinson LLP, coverage disputes are highly likely to arise over wine.
"There's going to be a controversy," Berg said.
Chiefly the controversy will be over the measurement of the losses. How much is the wine worth? Is it the cost of the fruit or the cost of the wine itself? Those are among the questions that these disputes will attempt to answer, according to Berg.
"What's the value? Value's going to be a huge issue," he added.
Various contracts assign values differently, and values can depend on how far along the wine was in the aging process, he added.
Additionally, if wine barrels that were destroyed were stored on site, that should trigger first-party coverage. But if the wine was in a storage facility, that becomes a third-party matter and questions over how the wine was stored, and how the barrels were anchored comes into play as negligence becomes an issue, Berg said.
"These polices are very complicated," Berg said. "The claims are always worth millions of dollars. You're going to have differences between the insurers and the winery owners."
As a result, Berg said he expects to be busier over the next few months.
"If history is correct I'll get a few of these claims," he said.
GeoVera Insurance, which provides stand-alone residential earthquake policies in California, Oregon and Washington, has several customers affected in the area.
"We have received 30 claims as of Wednesday morning and are continuing the process of completing the investigation of damages," said Scott Garfield, vice president of marketing for GeoVera. Garfield is offering Insurance Journal updates on the number of policyholders affected every few days.
The quake also literally hit home with GeoVera, which has its office near the epicenter and several employees living in the area.
However, the company reported no damages to its office, and according to the management none of its employees were injured.
Michelle and Peter Sander and their 10-month-old daughter Emma were fortunate the structure of their home two miles north of downtown Napa appears undamaged, but the young family lost most of their fine glassware.
"We had a bunch of broken glass," said Michelle, who is from Southern California and has experienced numerous earthquakes.
But the shaking from this quake was unlike the wavy motion of those quakes she felt before.
"That was the rockiest," she said. "It was just so violent."
When the quake struck Michelle sprang from bed and took off for Emma's room to check on the baby, though her efforts to reach the infant were made difficult by rocking dressers and a power outage that left the family in the dark.
"I took off running for her room," Michelle said, adding that all the while she thought "my baby's in a pile of rubble."
The family was unharmed, and the only contents lost were on the east and west sides of the home's walls, Michelle said.
Unfortunately one of those walls held the glassware from the couple's wedding, including the ceramic cake topper.
"We lost all of the wedding glass and a wedding gift that was glassware, and a $300 decanter," she said.
After she assessed her own situation, Michelle, who was a reporter with the Napa Valley Register until she was recently laid off, decided to check in on her old colleagues and workplace.
The daily newspaper suffered damage to its newsroom and printing press, forcing editorial operations into a conference room and the paper's management to have the paper printed off site, she said.
As Napa business owners mopped up vintages that spilled from barrels and bottles and swept away broken glass to get the tourist hotspot back in shape for the summer's final holiday weekend, government and tourism officials assessing its economic and structural impact encouraged visitors to keep flocking to the charming towns, tasting rooms, restaurants and spas that drive the Napa Valley economy, the Associated Press reported earlier this week.
According to the AP report, the worst damage and disruption was confined to the city's downtown, where a post office, library and a 141-room hotel were among 150 homes and buildings deemed unsafe to occupy.
Local officials offered an estimate that Napa Valley suffered $1 billion in property damage, and that they hope the long-term economic impact of the quake to businesses will be modest, according to the AP report, which has Napa County Supervisor Bill Dodd reporting that 80 percent of the valley's 500 or so wineries were unaffected by the quake.
CoreLogic Eqecat has estimated that insured losses from the earthquake could range from $500 million to $1 billion.
See related stories:
M6.0 Earthquake is California Bay Area's Strongest Since Loma Prieta
Napa Quake May Cost Up to $4 Billion as Wineries Shuttered
Cleanup from Napa Quake shouldn't deter tourists, Businesses Say
Topics California Catastrophe Earthquake
Was this article valuable?
Here are more articles you may enjoy.