Scientists have measured rather large ground movement and a strong earthquake around the Yellowstone caldera in the last year, but they have seen nothing that raises concern that the giant volcano might erupt anytime soon, a geophysicist says.
U.S. Geological Survey scientist Peter Cervelli told a conference on the Greater Yellowstone Ecosystem this past week that ground sensors at Norris Geyser Basin last year were showing movement south and east at minute rates.
"This really caught my attention because of something else that happened right around that time, which was the eruption of Steamboat Geyser for the first time since 2005," Cervelli said.
However, the two events are likely unrelated, he said.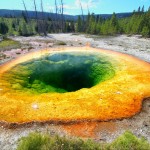 "In spite of the fact that I was really mesmerized by this coincidence in time, in retrospect it turned out it probably doesn't have anything to do – that is the Steamboat eruption is probably totally independent from this other observation," Cervelli said.
A few months later the Norris Geyser Basin started moving centimeters upward. The Yellowstone Volcano Observatory put out a statement to dispel talk of impending doom.
"Sometimes the most important thing we do is tell people when the volcano is not erupting," Cervelli said.
The Jackson Hole News & Guide reported that in the following months the ground at Norris kept moving. Eventually it would move more than it had in the past 10 years.
Cervelli explained that the deformation at Norris was well below the surface and "not something that's going to cause a surface hazard anytime soon."
The movement at Norris ended up being reset by a 4.8 magnitude earthquake in April, the largest in 30 years.
Despite that, Cervelli said the earthquake was unremarkable.
"Really, it's kind of what we expected," he said. "Like the stock market, (the deformation) cannot just keep going. And eventually what we find is that it went down, and it went down really abruptly."
Copyright 2020 Associated Press. All rights reserved. This material may not be published, broadcast, rewritten or redistributed.
Was this article valuable?
Here are more articles you may enjoy.