Ridesharing companies such as Uber are riding high in Arizona at the risk of defying state law, the Arizona Capitol Times reported.
Companies such as Uber and Lyft have only revved up operations since Gov. Jan Brewer vetoed legislation that would have exempted them from insurance regulations imposed on traditional taxis.
At the time of her decision in April, San Francisco-based Uber had said in a statement that "ridesharing as we know it is dead in Arizona." But since then, the Arizona Department of Weights and Measures said between 75 and 100 citations have been issued to drivers without the proper commercial license or insurance.
"What's most amazing to me is even after the veto, they just continued to operate anyway. Their operations just did not stop," department Director Shawn Marquez said.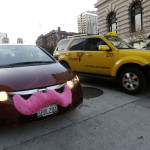 Marquez said it has been difficult to catch drivers because their vehicles are unmarked. Another tactic they use to skirt detection is by having passengers sit in the front seat, he added.
Representatives for Uber declined to comment.
In her veto letter, Brewer said the bill did not contain enough fundamental safeguards for passengers. She took issue with several provisions of the bill, including the part that exempts ride-share companies from the commercial insurance requirements that require traditional taxi and livery companies to insure drivers at all times on the job.
Meanwhile, the cab industry is trying to keep up with the competition. Total Transit, the parent company of Discount Cab, has started its own rideshare app for smartphones similar to Uber and Lyft's.
Michael Pinckard, Total Transit's president, said these ridesharing companies should be allowed in Arizona but only on a fair and level playing field. Their drivers should be required to carry the same legally-mandated commercial auto insurance and licenses.
"This whole concept about ridesharing going out of business and all the hoopla last year is just not true. We're doing ridesharing today. They continue to operate, so that's just another thing they've said that turned out to not be true," Pinckard said.
Copyright 2021 Associated Press. All rights reserved. This material may not be published, broadcast, rewritten or redistributed.
Topics Arizona Sharing Economy Ridesharing Uber
Was this article valuable?
Here are more articles you may enjoy.