Colorado drivers won't need snow tires or chains to drive on Interstate 70 next winter.
Negotiations at the state Capitol broke down Tuesday morning when lawmakers from the House and Senate tried to broker an agreement on a snow tire bill. The bill would have required winter snow tread or chains for noncommercial vehicles on mountainous stretches of Interstate 70 during snowy months.
The requirement passed the House but deflated in the Senate. Some Republicans called the requirement too hard to enforce.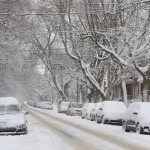 Supporters tried to persuade those skeptical Republicans to agree to the requirement. But the senators stood their ground, meaning drivers won't be required to have all-weather tires or carry chains on the interstate next winter.
Lawmakers may still decide to direct transportation authorities to study the matter.
Copyright 2021 Associated Press. All rights reserved. This material may not be published, broadcast, rewritten or redistributed.
Topics Colorado
Was this article valuable?
Here are more articles you may enjoy.