The U.S. Supreme Court turned away a National Rifle Association challenge to a San Francisco law that requires people who store handguns at home to either put them in a lockbox or disable them with a trigger lock.
Over two dissents, the justices left intact a federal appeals court decision that said the 2007 law was a reasonable step that fostered gun safety without significantly impinging constitutional rights.
The rebuff is a setback for gun-rights advocates, who have repeatedly tried and failed in recent years to get the high court to expand the protections under the Second Amendment. The two dissenting justices, Clarence Thomas and Antonin Scalia, said lower courts are ignoring 2008 and 2010 Supreme Court decisions that interpreted the Second Amendment as protecting individual gun rights.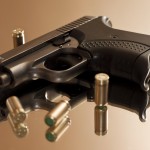 "Despite the clarity with which we described the Second Amendment's core protection for the right of self-defense, lower courts, including the ones here, have failed to protect it," Thomas wrote for the pair. Thomas and Scalia said they would have heard the appeal, filed by six San Francisco residents and groups including the NRA.
While the 2007 San Francisco law requires people who store handguns at home to either put them in a lockbox or disable them with a trigger lock, people can carry a gun in the home without a trigger lock.
The appeal contended that the San Francisco law was similar to the Washington, D.C., trigger-lock requirement invalidated in the high court's 2008 decision. The groups pointed to a passage in the 2008 opinion that said Washington residents were barred from having a firearm "operable for the purpose of immediate self-defense."
In urging the justices to reject the latest appeal, San Francisco officials said the two measures contained important differences. Washington had an outright ban on handguns, and its trigger-lock rule also applied to long guns.
"San Francisco's ordinance allows citizens to carry loaded and unlocked handguns on their person at any time, including in a holster," the city argued. "It also allows citizens to store loaded handguns within an easily opened lockbox rather than 'disassembled or bound by a trigger lock at all times,'" officials added, quoting from the 2008 ruling.
The case is Jackson v. City and County of San Francisco, 14-704.
Copyright 2020 Bloomberg.
Was this article valuable?
Here are more articles you may enjoy.