A lawsuit filed by the owner of a Wyoming refinery alleges six companies played roles in the installation of a valve that failed, causing a fire and $135 million in damage to the plant.
Nobody was hurt in the fire on Sept. 27, 2013, at the Sinclair refinery in the town of Sinclair in south-central Wyoming. In the lawsuit filed last week in U.S. District Court of Wyoming, Salt Lake City-based Sinclair alleges the cause was a hydrogen gas control valve that failed in the refinery's hydrotreater.
Functions of a hydrotreater include removing sulfur as part of the process of turning crude oil into fuels and other petroleum-based products.
Two carbon steel control valves were installed in the hydrotreater before installation of the device was completed in 2006. Two stainless steel control valves Sinclair had provided for use in the device were not installed.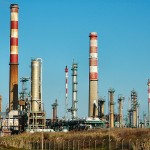 One of the carbon steel valves eventually failed amid exposure to hydrogen, Sinclair alleges.
"Under the known and expected hydrogen gas pressure and temperature operating conditions, carbon steel control valves were likely to fail catastrophically," the lawsuit states.
The six defendants include Marshalltown, Iowa-based Fisher Controls International LLC, the manufacturer of the carbon steel control valves.
"We do not believe that Fisher is in any way responsible for this fire. The control valve sold to Sinclair was exactly what Sinclair specified and what Sinclair ordered," Fisher spokesman David Baldridge said Tuesday.
The other defendants include A&B Builders Ltd. and Matrix Engineering Ltd., both of Beaumont, Texas. Neither company had a working phone number. Defendant Instrument & Valve Service Co., a Delaware corporation, did not have a listed number.
A message left with the parent company of defendant Howe-Baker Engineers Ltd. of Tyler, Texas, wasn't immediately returned Tuesday. Defendant Applied Control Equipment LLLP of Englewood, Colorado, declined to comment.
A series of fires broke out at the refinery in 2012 and 2013, including three in 2012 that injured seven workers.
Copyright 2020 Associated Press. All rights reserved. This material may not be published, broadcast, rewritten or redistributed.
Was this article valuable?
Here are more articles you may enjoy.