An Uber driver is an employee not a contractor, according to a California Labor Commission ruling on Wednesday that opens the door to more scrutiny over the rideshare giant's business model.
Earlier in the day some media outlets reported that the commission's ruling in a wage claim case that was heard earlier this month means that all Uber drivers are considered employees. However, the ruling only pertains to this particular case, according to a spokeswoman for the Department of Industry and Labor Relations.
Viewpoint: How Ruling That Drivers Are Employees Upends Uber Business Model
"The California Labor Commissioner's decisions in a Berman wage claim apply to the claimant, that employer and the facts presented in that particular case," DIR spokeswoman Erika Monterroza said. "The Labor Commissioner's evaluation of whether someone is an independent contractor or an employee is done case-by-case based on the facts before her."
The ruling came earlier in the month, but was made known Tuesday after Uber appealed the decision in a filing in state court in San Francisco.
The commission on June 3 ruled on a claim filed in September by Barbara Ann Berwick. She was awarded nearly $4,000 in expenses.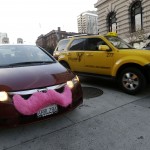 This case is similar to other ongoing employee classification cases. In another case earlier in June, Uber lost a bid to force arbitration in a federal lawsuit brought in San Francisco by its drivers. Earlier this year, the same U.S. District Court rejected Uber's bid to classify its drivers as independent contractors, saying a jury would rule on their status.
In Florida, a state agency ruled earlier this year that Uber drivers are employees.
In New York, taxi-enforcement agents seized almost 500 Uber cars over the last six weeks for illegal street pickups, over half of all its seizures for illegal-pickup violations, the city's Taxi and Limousine Commission said.
In a response to the media reports out in the California matter, Uber noted that the ruling does not apply to all drivers, only one, and that commission's ruling is non-binding.
"Indeed it is contrary to a previous ruling by the same commission, which concluded in 2012 that the driver 'performed services as an independent contractor, and not as a bona fide employee.' Five other states have also come to the same conclusion," Uber stated in an email response to a request for comment for this story. "It's important to remember that the number one reason drivers choose to use Uber is because they have complete flexibility and control. The majority of them can and do choose to earn their living from multiple sources, including other ride sharing companies."
Harry Campbell, a Newport Beach, Calif. blogger for Forbes who goes by the handle "The Rideshare Guy," said many of the followers of his blog and his website dedicated to ridesharing do not want to be considered Uber employees.
But they also don't like the current model in place, he said.
"It shows the current model is not clear cut," Campbell said.
As it stands now Uber does have some control over when a driver works. Drivers must accept 90 percent of ride requests, so they must keep themselves available for rides anytime their app is on and they must accept all rides, even short rides in which a driver earns little to nothing, Campbell said.
"Uber is kind of getting the best of both worlds," he said. "They're able to except some of that employee control, but they're not having to pay any of the costs."
On what's considered a minimum fare ride, which is $4, a California driver only nets $2.40 after Uber takes its $1 safety fee and 20 percent cut.
It's difficult to earn money on these short rides, and it has become more problematic for Uber drivers as the service has gained popularity and drivers are starting to see of these short ride requests, he said.
As for the California decision, it may only represent one driver, but speak Campbell believes it could "speak to the ongoing lawsuits."
"I think it holds more importance than this one driver," he said of the commission's decision.
Reuters contributed to this report
Related:
Topics California Contractors
Was this article valuable?
Here are more articles you may enjoy.