A Utah cab company lawyer says it's frustrating that new limits on airport cab fares won't apply to ridesharing companies like Uber and Lyft.
Yellow Cab attorney Rocky Anderson said last week that cab companies don't mind the regulations, but they want them to apply to ridesharing companies too.
Airport authorities say the new rules come after some travelers complained cab drivers were overcharging for rides amid regulatory upheaval sparked by the app-based services.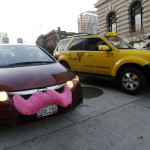 Airport spokeswoman Bianca Shreeve says the new flat fare limits of $25 or $30 don't apply to Uber and Lyft because the state now regulates the smartphone-powered companies.
She says the companies aren't currently operating at the airport as they work out a set of rules with authorities to pick up there.
Copyright 2020 Associated Press. All rights reserved. This material may not be published, broadcast, rewritten or redistributed.
Was this article valuable?
Here are more articles you may enjoy.