Wildfires burned amid a week of triple-digit temperatures across California, while some sections of the state saw sudden thunderstorms and flash floods.
High temperatures were expected from Sacramento to San Bernardino, Fresno to Fullerton in a heatwave forecast to last through Thursday, according to the National Weather Service.
Wildfires continued to plague the state as dozens of people were driven from their homes Tuesday night in Fullerton when a blaze along the Los Angeles and Orange County border broke out on ridges above well-populated neighborhoods.
But residents of the roughly 40 homes were allowed to return after a heavy air attack tamed most of the flames. It was 95 percent contained after growing to some 80 acres, and firefighters were expected to deal with hot spots into Wednesday.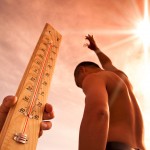 In some places, thunderstorms were an even bigger problem than heat. Southern California's inland mountains and deserts were hit with flash flooding in the form of short but heavy bursts of rain, lightning and even some hail due to remnant moisture from Hurricane Linda in the Pacific off Mexico.
In Tuolumne County near Yosemite National Park, where temperatures in the upper 90s are expected Wednesday, a firefighter was injured and a home and two outbuildings were destroyed Tuesday when two fires combined in the Cedar Grove area, state fire spokeswoman Lisa Williams said. She had no information on the firefighter's condition.
Three educational camps and several homes in the area were under evacuation orders.
The fire burning about 20 miles northeast of Sonora has consumed 100 acres and it is 20 percent contained.
The cause of the fire has not been determined. Nearby, a wildfire above Yosemite Valley that began Monday grew to 500 acres, sending plumes of smoke up to the sky that are visible throughout the park.
Around the state, excessive heat warnings were issued into Thursday night in many areas, especially the valleys and lower mountain elevations.
Wednesday and Thursday will likely be the hottest days before cooling sets in during the weekend, forecasters said.
Copyright 2021 Associated Press. All rights reserved. This material may not be published, broadcast, rewritten or redistributed.
Was this article valuable?
Here are more articles you may enjoy.