The Washington State Department of Labor & Industries is proposing an average 2 percent rate workers' compensation increase for 2016.
Each fall L&I sets workers' comp rates for the following year. L&I looks at expected workers' comp payouts, the size of the reserve fund, wage inflation and other financial indicators to determine the proposed base premium rate.
The proposed increase comes out to a little more than 1 cent per hour worked.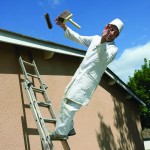 L&I uses wage inflation as a benchmark to help determine rates for the coming year. Washington's most recent wage inflation number is 4.2 percent. Significant cost savings by the agency are allowing for a proposed increase well under the wage inflation rate, according to L&I.
L&I is the state's primary workers' comp provider, covering roughly 2.6 million workers and nearly 170,000 employers.
The proposed rate is an average. An individual employer's actual rate change may be more or less depending on that employer's industry and history of claims that result in wage replacement and/or disability benefits.
More than 80,000 claims are accepted each year through the Washington State Workers' Compensation State Fund.
Was this article valuable?
Here are more articles you may enjoy.