The Nevada agency that regulates taxis is preparing to ramp up its staffing now that Uber and Lyft are on the road.
Lawmakers are set to review a Nevada Transportation Authority request on Wednesday to add seven new full-time staff members to oversee ridesharing company drivers. The positions include four investigators who will ensure companies are complying with the law, two staff members who will work on a driver database, and a legal researcher.
The positions will be funded with $650,000 in application fees that the state collected from Uber and Lyft.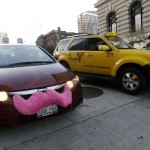 Future funding will come from administrative fees paid by the companies.
Nevada lawmakers passed bills this spring creating a legal framework for ridesharing companies that's separate from taxi rules. Uber and Lyft launched in Nevada in September.
Related:
Copyright 2021 Associated Press. All rights reserved. This material may not be published, broadcast, rewritten or redistributed.
Was this article valuable?
Here are more articles you may enjoy.