Nevada transportation regulators say they'll seek to fast-track regulations for ridesharing companies such as Uber and Lyft.
Members of the Nevada Transportation Authority voted 2-1 on Thursday to petition Gov. Brian Sandoval for emergency status.
Agency spokeswoman Teri Williams said Sandoval's permission would allow officials to get regulations in place and start accepting ride-hailing company applications by a June 29 deadline set by the Legislature.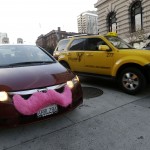 Democratic state Sen. Kelvin Atkinson said the goal was to get ride-hailing services running by July 1, although representatives from those major companies told regulators Thursday that they weren't sure they would be ready to start by then.
Bills allowing for ride-hailing passed the Legislature after much debate. One imposes a 3 percent fare tax projected to raise more than $70 million over two years.
Copyright 2020 Associated Press. All rights reserved. This material may not be published, broadcast, rewritten or redistributed.
Was this article valuable?
Here are more articles you may enjoy.