The sulfurous scent of a natural-gas leak hangs in the air as mail carriers wearing gas masks make rounds to mostly deserted homes in the Los Angeles neighborhood of Porter Ranch.
Life in the community of 30,000 people chiseled into the hills on the north rim of the San Fernando Valley has been upended by the break, which emits enough methane to fill the Empire State Building every day. San Diego-based Sempra Energy, which operates the fourth-largest underground storage field in the U.S. nearby, has said capping it could take two months.
The leak in California, the state with the toughest U.S. restrictions on greenhouse-gas emissions, is bringing calls to tighten regulations on storage fields as the amount of natural gas held in underground reservoirs nationwide swelled 17 percent last year. Enforcement is left to states, with no overarching federal role. Leak-fueled explosions have flattened homes and businesses and killed people from New York to Kansas and Texas since 2001.
"This is the biggest community and environmental disaster I've ever seen, bar none," said Mitchell Englander, who has represented Porter Ranch on the Los Angeles City Council since 2011. "Life there is not on hold — it's on the edge and it's on the brink of pandemonium. People are living with fear, uncertainty and doubt."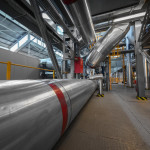 Sempra, whose Southern California Gas is the nation's largest distribution company, could face as much as $900 million in costs such as relocation and legal expenses, based on government data and Bloomberg Intelligence estimates. The company said any cost estimates are "premature and purely speculative," according to a regulatory filing Dec. 10. The company has disclosed at least $1 billion in insurance coverage for claims.
Sempra's shares have tumbled 8.2 percent since the leak was discovered Oct. 23, as the Standard and Poor's 500 Utility Index fell 3.1 percent during the same time.
Since that October day, methane has been shooting up from a broken, 7-inch diameter underground steel pipeline used to inject natural gas into an 80 billion-cubic-foot storage field more than a mile (1.6 kilometers) below ground. Sempra is drilling a relief well to divert the gas, saying it's unable to repair the pipeline. That could take weeks, the company says.
Sandwiched between the Ronald Reagan Freeway and the Santa Susana Mountains, Porter Ranch is Los Angeles's newest community. With homes that have a median value of $707,400, Englander called the neighborhood "a slice of heaven in the middle of a megalopolis."
The trouble in paradise is hard to miss.
A shopping center by the freeway still bustles, but the longest lines are at a storefront that Southern California Gas established to assist residents with relocation, health problems, air-filtration systems and claims. The smell of chemicals added to natural gas — which itself is colorless and odorless — pervades the air. Homes of residents who've already received relocation assistance sit vacant, while signs warn of increased police patrols to ward off looters. Some residents and visitors wear gas masks.
Paige Hemmis and her husband, Jason Short, paid $1.1 million in 2010 for a home in the gated Renaissance neighborhood, with a gurgling stone fountain, Tuscan-style architecture and close-up views of the brown hills that hide the natural-gas storage field less than a mile away.
The couple and their two dogs and three cats began experiencing symptoms in October, about the time Southern California Gas acknowledged the pipeline, which has been in operation since 1972, was leaking.
Jason, a singer, said he suffered a burning sensation in his eyes, dizziness and fell over twice. Paige, a home- improvement specialist who appeared on ABC's "Extreme Makeover: Home Edition," said her voice became hoarse and she developed a rash on her scalp. She showed mobile-phone pictures of their 4- year-old golden Labrador, Juno, with lesions on his mouth, nose and ears.
The couple has put in for relocation assistance, but with five pets, options are limited, they said.
"I put my life savings into this home because it's behind gates, and I felt safe there," Hemmis said. "I don't anymore."
Many residents, including Hemmis and Short, are talking to lawyers. At least two firms have sued Southern California Gas on behalf of dozens of Porter Ranch residents. Los Angeles City Attorney Mike Feuer sued the company for civil damages.
One of the lawyers representing residents, Robin Greenwald of Weitz & Luxenberg in New York, led a class-action lawsuit against BP Plc after the Deepwater Horizon oil rig exploded in 2010 and killed 11 workers while releasing at least 134 million gallons of oil into the Gulf of Mexico. Five states settled with BP and contractors for more than $20 billion.
"I call this BP on land," Greenwald said of the Porter Ranch leak. "It's that bad."
One lawsuit claims the company failed to replace safety valves on the line. Sempra spokeswoman Melissa Bailey said such valves aren't required under state regulations and it's too early to say whether they would have prevented the leak.
In the meantime, the company is digging a well that will intersect with the leaking pipe so engineers can inject brine and then cement into the pipe. Sempra also is providing plug-in air cleaners that filter the gas odorant from the air.
Southern California Gas installed 6-foot-high screens over the well to trap droplets of the brine that may mix with the gas as it flows to the surface, causing dark brown spots to smudge neighboring properties, spokeswoman Kristine Lloyd said by e- mail.
Since October, the leak has spewed at least 1.6 million metric tons of carbon dioxide into the atmosphere, equivalent to 200,000 vehicles driving for a year, said Dave Clegern, a spokesman for the California Air Resources Board.
Natural-gas storage fields, of which the U.S. has more than 400, "tend to fly under the radar until catastrophe hits," said Timothy O'Connor, the Los Angeles-based director of the Environmental Defense Fund's oil and gas program. The leak highlights the need to strengthen California's regulations and inspections, he said, and other states should review their own policies.
California Department of Conservation records show that the Porter Ranch facility was inspected annually since 1989 with no leaks or other problems until 2015. The department is proceeding with updated regulations on underground gas injection and storage in 2016, spokesman Don Drysdale said.
Englander said state regulations are more than 30 years old and don't do enough to protect residents or the environment.
"We overregulate virtually every industry in California, yet we have some of the softest regulations on natural-gas storage fields," he said. "It's astonishing to me."
–With assistance from Mark Chediak and Harry R. Weber.
Related:
Copyright 2021 Bloomberg.
Topics USA California Legislation
Was this article valuable?
Here are more articles you may enjoy.